Four Reasons Why You Should Upgrade Your TeamSnap Plan
Share This :
The best feeling in the world? Taking something awesome and making it even more awesome. And when you upgrade your TeamSnap plan, that's exactly how you'll feel. 
If you're on our Free or Basic plan, you're missing out on some incredible features. 
Here are four reasons to upgrade to our Ultra and Premium plans:
Track and Assign Tasks with Assignments
Stay on top of volunteers, tasks and signups with TeamSnap's time- (and sanity) saving assignments feature.
Whether it's remembering the Gatorade and oranges or taking pictures and video, your volunteers need to know what to do, when to show up, and what to bring. With TeamSnap's assignments feature, you can keep a running list of everything that needs to get done.
"I was at an event and needed to contact a volunteer who hadn't arrived. I went to the assignment tab, quickly found the volunteer I needed, then I went to the team roster and contacted them and their parents to find out what was happening. This has made life so much easier. We use to use Excel docs, Google Forms, Email, and SignUp.com all to coordinate our activities. This has really brought everything under the same roof."
–Brian Jones, Harding Academy Robots program director
Keep Your Eye On Progress With Statistics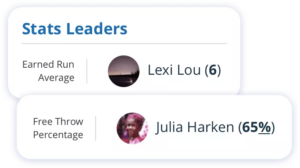 It's time to throw away all of those notebooks and Google Docs. We have a better solution to keep track of player stats: the statistics tracker.
Easily view leaders for stats such as goals scored, batting average, free throw percentage and red zone efficiency.
The best part? TeamSnap crunches the numbers for you! Just import the numbers, easily create statistical formulas, and we'll do the rest.
"I found the statistics experience delightful. I easily figured out what I needed to do to get the stats to my liking, despite the unique nature of their calculation. I particularly appreciated that they let me change the calculation of existing stats (e.g., adding walks to slugging)."
– Jeff C., baseball coach
Set and Share Game Day Lineups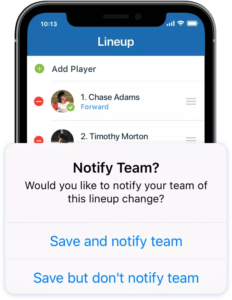 Minimize surprises and focus on the game with our lineups feature. 
In just a tap, easily assign players to the lineup. Sync with the availability feature to set your lineups from the players who RSVP for the game.
Choose from preset positions for soccer, football, baseball, basketball and ice hockey, or create custom positions for other sports.
Notify the entire team in one tap. It's that simple!
"This app makes it really easy to communicate with your team for everything from organizing the schedule to last-minute cancellations or schedule changes. It allows you to track availability and makes setting your lineup easy so there are no surprises."
– Matthew F., TeamSnap customer
Add Unlimited Players To Your Roster
Roster limits, be gone! 
We know not all sports fall into a standard roster of 15 players. In fact, some sports have teams with 100+ players.
With our Ultra plan, rest easy knowing you aren't limited to 15 or 30 players. Instead, bask in the glory of an unlimited roster. 
"Our team has grown every year since we started, and something that TeamSnap makes me excited for is how quickly I'll be able to add to and adapt to our roster, by switching to a new season, yet not needing to start from scratch."
– Brian Johnson, head coach, Des Plaines Park District Warriors Swimming
➡Love these features? Of course you do! Log in to upgrade your plan today! ⬅
–
Lisa Hope is a product marketing manager with TeamSnap and a marketing professor at the University of Florida.
---
National data actively tracking the safe return of youth sports activities
See the map
Share This :