Fire Up Fun With Johnsonville: 7 Summer Cookout Recipes for Hungry Athletes That the Whole Family Will Love
Share This :
You deserve the best summer ever. TeamSnap has teamed up with Johnsonville to put together this 'Fire Up Fun with Johnsonville' blog series to spark your playful spirit and help your family make the most of the 2021 summer season. And for even more backyard fun, enter for a chance to win the Best of the Backyard Sweepstakes. The Ultimate Backyard Prize Pack includes a year's supply of sausage and beans, a premium cornhole board set, and a Pit Boss Sportsman Grill. Enter today by visiting bestofthebackyard.com. 
Summer really is the best, isn't it? Warm temperatures, summer camps, and backyard barbeques… Does it get any better? Whether your kids spend their days at soccer camp, playing basketball with their friends, or practicing their dives into the neighborhood pool, you know that at the end of the day your little athletes always come home hungry. We've put together a menu of delicious summer cookout recipes that are filled with flavor and perfect for the whole family. So, gather the kids, fire up the grill, and let's get cooking!
Piggy Sliders
Yes, we all love our grilled classics like burgers, hot dogs, and brats, but what about a new take on an old classic? Grab a package of JOHNSONVILLE® Smoked Sausage Links or Smoked Rope Sausage and grill them for 10-12 minutes, or until heated through. While they're cooking, prep your homemade honey mustard (Pro Tip: combine a ¼ cup of honey with a ¼ cup of your favorite mustard for a DIY treat!) and your buns. Once the sausages are cooked, cut them into coin-sized slices and layer them on the bun with the honey mustard and a slice of Swiss cheese. Wrap your sliders in foil and place them over indirect heat for about 10 minutes, or until the cheese gets super melty. Then, enjoy!
Honey Mustard Turkey Sausage Skewers
For a lighter take on a classic kabob, slice up some smoked turkey sausage alongside some yellow onions and red and yellow bell peppers. Using either wooden or metal skewers, thread the sausage, onion, and pepper onto the skewer alternating between each ingredient. The result is a colorful light lunch or dinner that can be eaten with your fingers – a fun way for your kids to eat their meal! Serve the kabobs with a side of honey mustard for dipping. Get the Full Recipe.
Strawberry and Apple Chicken Sausage Salad
When the heat of summer hits, let's be honest, the last thing you want is a hot, heavy dish. Freshen up your cookout table with this sweet, refreshing salad that hits all the food groups: protein, fruit, vegetables, and dairy! Toss the fresh greens, apples, strawberries, nuts, cheese, and sausage with a light dressing of cider vinegar, honey, and oil. Serve the salad as a side dish or the main course with fresh bread and cool lemonade. Get the Full Recipe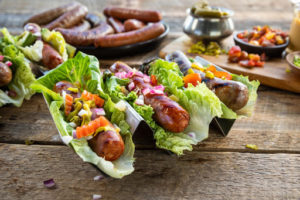 No Bun Sausage Sandwich
If you're looking to eat a little lighter this summer, you don't have to give up the sausage… just lose the bun! Pre-heat your grill and then cook your favorite JOHNSONVILLE® sausage (we love the Jalapeno and Cheddar Smoked Sausage Links!) until they've reached 160°F. Then, place each link in a romaine lettuce leaf and finish it off with BBQ sauce, dill pickles, red onion, jalapenos, or whatever toppings you most enjoy!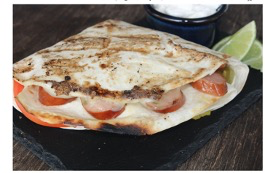 Grilled Sausage Tortilla Wrap Hack
Quesadillas are a great way to get your kids to enjoy their vegetables…covered in melting cheese that's grilled to perfection! To prepare, grab one package of JOHNSONVILLE® Smoked Sausage Links, sliced tomatoes, pepper jack cheese, burrito-sized tortillas, and guacamole or jalapenos. Spread butter on one side of each tortilla, and slice the tortilla from the center to the outer edge. Top each quarter of the tortilla (unbuttered side) with sausage, tomato, cheese, and guac. Then fold the tortilla into a cone shape along the center axis. For the finishing touch, pop the quesadilla on the grill for 6-8 minutes on either side to cook and enjoy!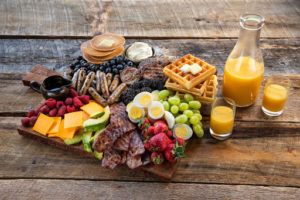 Grilled Breakfast Charcuterie
Brunch is nothing if not luxurious, indulgent, and delicious! All it takes for this amazing brunch spread is a grill, some sausage, and a bit of imagination. Preheat your grill to medium-high and grill your Johnsonville Breakfast Sausage Patties, Link, or Sausage Strips until the internal temperature reaches 160°F. Grill the French Toast sticks until they're heated through and then serve along with eggs, cheese, fruit, and warm maple syrup. 
Grilled Sausage with Marinated Shrimp, Peppers, and Onions
Surf 'n turf sounds like the perfect summer cookout recipe! Marinate the shrimp in a yummy sauce of lemon juice, chopped herbs, red pepper flakes, and minced garlic for 30 minutes while you toss the peppers and onions with olive oil, balsamic vinegar, and oregano. Grill the sausages, then veggies, and finally the shrimp for a full, hearty meal that will have the whole family licking their fingers. Get the Full Recipe
Johnsonville knows how to sausage. For tips on the best way to grill your Johnsonville sausages, visit johnsonville.com.
---
National data actively tracking the safe return of youth sports activities
See the map
Share This :