TeamSnap Named to Outside Magazine's 100 Best Places to Work List for Third Consecutive Year
Share This :
Remote work. Unlimited vacation. A culture of trust.
These are just a few of the perks we enjoy at TeamSnap. We love our culture, and we're not the only ones; Outside Magazine has named us No. 25 on their 100 Best Places to Work in 2017!
We sat down with TeamSnap co-founder and Chief Creative Officer Andrew Berkowitz to learn more about how he helped build such an outstanding company culture. (And don't forget to see what positions we have open!)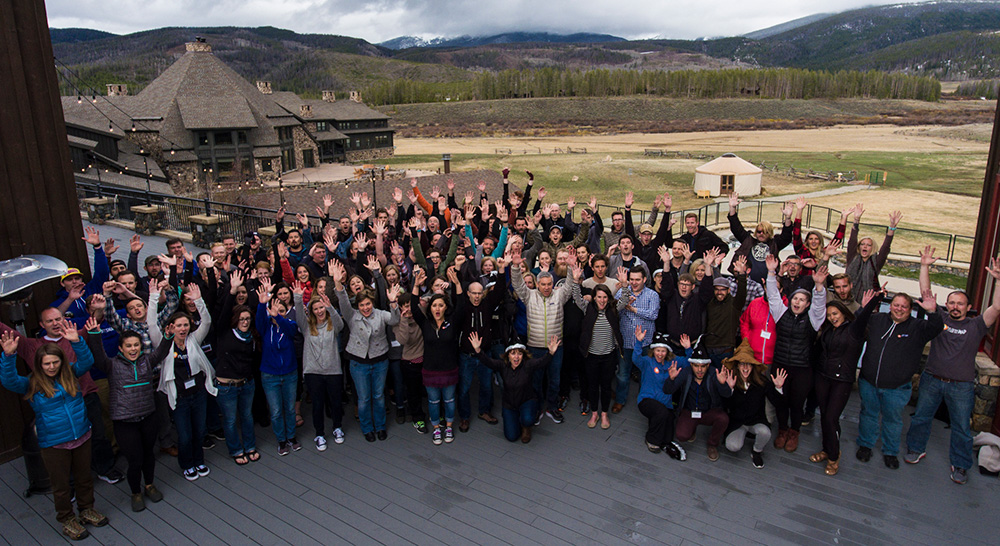 This is the third consecutive year being named one of Outside Magazine's best places to work. What does that mean to you?
It's especially gratifying this year, because we've more than doubled the number of employees since we first received recognition in 2015. Keeping a great culture gets trickier as you grow, and it's a testament to everyone here that we've worked hard to keep our culture strong. It starts with recruiting great people, teaching them the TeamSnap way, and then continuing to talk amongst ourselves about what's working and what can be improved.
So how does TeamSnap keep culture strong, even with a distributed team?
It all starts with trust. That's the North Star for everything we do. Too many companies put rules and policies in place to control their employees. We take the opposite approach. We assume that every person at TeamSnap genuinely wants to be here and wants to do their very best work for the company, their coworkers and our customers. Then we simply ask ourselves how we can empower them to be successful. Culture isn't about perks or ping pong tables (although we do have a ping pong table in our Boulder office). It's about being in a place where you feel you have trust and ownership.
What are some examples of trust?
For starters, we don't care where our employees work. People work from home, from coffee shops, from co-working spaces. We have people traveling around the country in RVs or traveling around the world. Nobody has to ask permission to come in late or take time off during the day to spend time with their families. We trust people to do what's right for their team.
That seems like it would be easy to abuse.
Actually, it's the opposite. When you stop judging people on whether their butt is in their office chair at 9 a.m., it turns the conversation to be solely about the work. You can't fake it here–you don't get points for looking busy or being at your desk before the CEO. Either you're highly productive or you're not. Our employees love that they can design their life and work schedule for maximum effectiveness and personal satisfaction instead of being forced into a box that might make them less happy and less productive.
How does the company retain its identity as it grows?
We're definitely getting more intentional about culture. We've started writing down more about our values and how we work together. We have our first People Ops leader who helps to make sure that everyone is happy and has what they need to thrive. And as we've grown it gets harder and harder to know everyone else in the company, so we're spending more time creating opportunities for people to get to know each other online.
We also all get together in person a couple times a year for the TeamSnap Summit. This is where all the full-time TeamSnappers gather to socialize, share ideas and plan what we can build for our customers. It's the best week of the year.
I'd think working remotely would make it hard to get to know your co-workers.
Actually, many TeamSnappers have told me they're closer to their co-workers here than when they worked in an office. We're communicating all day long in Slack and on video. Having an online community kind of democratizes communication–instead of only knowing the people on your team or near your cubicle, it's easy to get to know anyone in the company. Instead of a watercooler for conversations we have dedicated Slack channels for interests like #football, #cats and #thebachelor. We all share details about our personal lives — probably more than we would in an office.
What advice do you have for companies looking to build an outstanding culture?
Start with trust, but make sure that everyone owns the culture. It can't be something that's handed down from on high, nor can it be something that employees feel they have to fight for. Building a great culture is a partnership between everyone in the company and you have to believe in your heart that people are good and kind and want to do the right thing for the company and their teammates. We're building a platform that helps teams be more effective, so we think a lot about what makes great teams.
Kyle Massa is TeamSnap's content manager. Outside of work, you can find him writing, reading and playing guitar for his cats.
Andrew Berkowitz is TeamSnap's chief creative officer. He also works in product, business development, marketing and strategy. In his spare time, Andrew teaches, performs and directs improvisational comedy with ComedySportz.
---
National data actively tracking the safe return of youth sports activities
See the map
Share This :