New Features: Set Availability From Email, Background Archiving
Share This :
We have a couple of new features to announce today — one oft-requested and the other something new that should make things a little easier when it's time for your next season.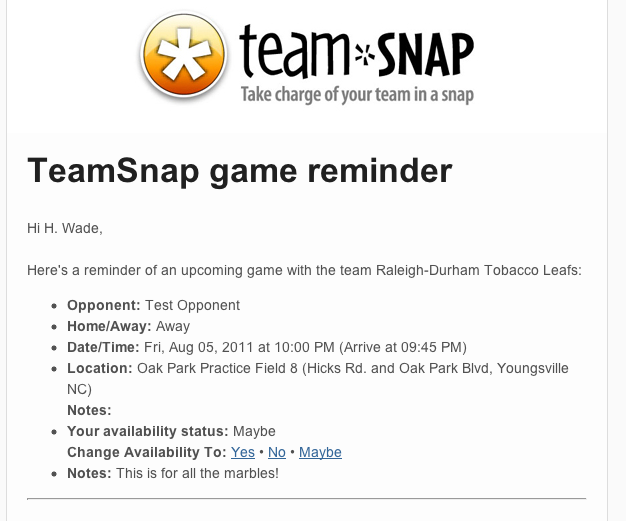 First up, the oft-requested feature. As most of you know, you can set up TeamSnap to send you reminder emails before a game or event. (If you didn't know this, it's under the Preferences tab). Those reminders tell you where and when the event is, and how you've set your availability. In the past, if you've wanted to change your availability you've needed to log into TeamSnap, go to your team, and change it on the web.  We wanted to make that quicker and easier, so we've added the ability to change your availability just by clicking on a link in the reminder email.
Just click the "Yes", "No" or "Maybe" link in the reminder email to change your availability status. Quick. Easy. No need to log in. This feature should save you some time and a few clicks — clicks that could be better spent watching a guy taunt a talking dog.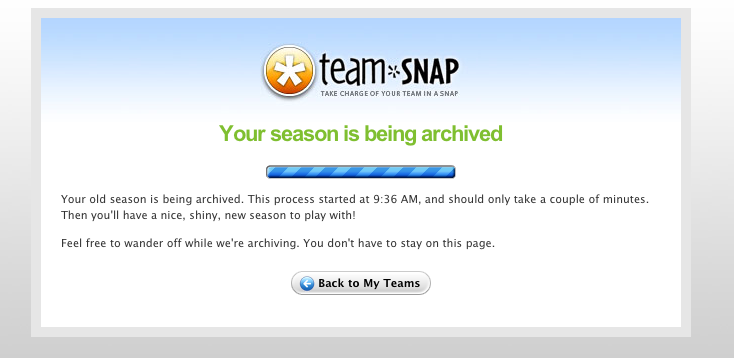 Our second new feature has to do with Season Archiving. The fall sports season is coming up quickly, and team owners may be getting ready for it by archiving last season's data to start the new campaign. Previously, when you archived your team, we did it right there while you waited. With larger teams, or if there was a problem with your internet connection, that request could take a long time, and potentially cause weird things to happen.
With our new setup, season archiving happens in the background. You'll get a handy-dandy screen that tells you your team is being archived, and in a couple minutes or less (usually much less), the "Wait for it…" page will update letting you know it's done, and your new season is ready. This not only works much more reliably, but you can keep using your other teams in TeamSnap while archiving is taking place.
We hope you enjoy these new TeamSnap features!
---
National data actively tracking the safe return of youth sports activities
See the map
Share This :