Multiple Sponsors, Easy Roster Additions for Mobile
Share This :
We're excited to tell you about some feature enhancements to both the web application and our mobile apps that you can try today!  Both of these enhancements came from customer suggestions, so keep 'em coming.
Feature Multiple Sponsors on your Home Page

We all know that behind every great team, there's a sponsor that helps fund the uniforms, or supplies the pizza, or provides some other support that the team simply cannot manage without.   And sometimes teams have more than one such sponsor that they want to show the love.
Now for our Ultra Plan customers, we've rolled out the ability to display multiple sponsor logos on the home page of both your internal and public-facing websites.  So if you've been agonizing over whether to give props to Chico's Bail Bonds or ACME Road Runner Exterminators, now you won't have to make such a gut-wrenching choice!
Check this out for complete instructions on how to add a second (or a third or tenth) sponsor to your site.
Easy Roster Additions on Mobile
More and more of our customers are creating teams on the go, and we've recently made it even easier to build out your roster by using our two new import features to our iOS and Android apps.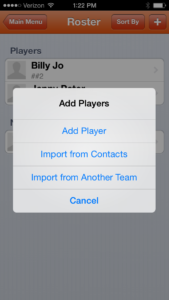 First, you can now add members to your team directly from your mobile device's list of contacts.  The TeamSnap mobile app will pull all the important contact information and populate all the same fields right in your TeamSnap roster.  Easy!
Next, you can now copy any player or member from one TeamSnap roster directly into another. Â All his or her player data will come along for the ride.
Both types of roster additions work in a similar fashion. The Team Owner and Managers will find a "+" button at the upper right of their roster screen.  A magic tap of that button will reveal an "Add Players" list of abundant possibilities.  Choose "Import from Contacts" or "Import from Another Team" and add players to your heart's content!  Or until your thumb falls off.
On Android, the options are broken out even further to choose between adding either players or non-players. Â Go check it out!
---
National data actively tracking the safe return of youth sports activities
See the map
Share This :