Introducing Your All-New My Teams (and Leagues) Page
Share This :
Much like the Winchester Mystery House, TeamSnap's My Teams page has seen more and more features and elements bolted onto its creaky foundation over the years. What was once envisioned as a quick pit stop on the way to your team was groaning under the weight of features like season archiving, multi-roster and leagues. So today we're pleased to roll out the all-new My Teams (and Leagues) page. You'll see it the next time you log into TeamSnap.
Some highlights: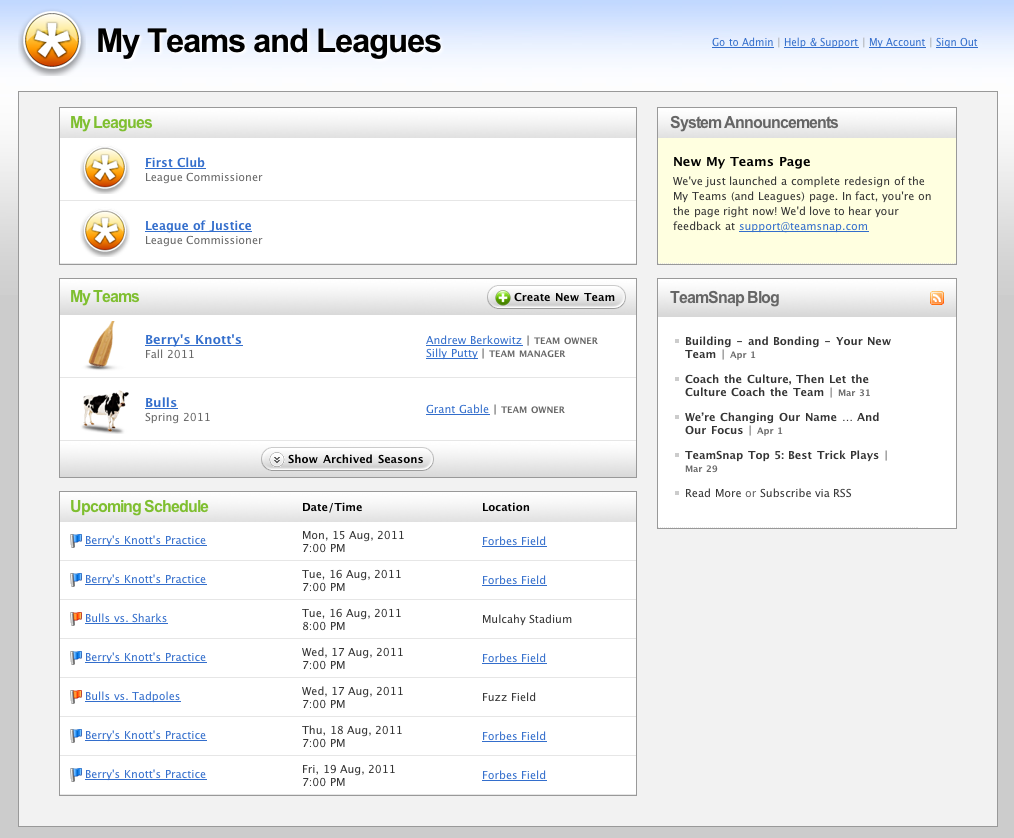 Hidden archived seasons
If you have archived seasons, they are now hidden at the bottom of your team list. Click a button to show them if you want quick access to a past season.
Better multi-roster support
If you have multiple people on one team in the same account (say, a parent and a child), you'll now see both of them listed next to the team, instead of seeing the team listed twice. Click the person you want to use for that team.
Links to your leagues
If you're using TeamSnap for Leagues and Clubs, our new league product, your leagues will be listed on the page.
More room on team home pages
We've moved system announcements and recent blog posts off of the individual team home pages, which will free up more space on those pages. Look for us to make better use of your team home pages in the near future.
Upcoming schedule at a glance
The upcoming schedule for all of your teams is listed out, so you can plan your week ahead.
We're pretty excited about this new page. We think it gives you a better experience today, and we're sure that we'll be refining and making it even more useful based on your feedback in the coming weeks and months. We'd love to hear what you think in the blog comments, or as always you can email us at [email protected] with your thoughts.
---
National data actively tracking the safe return of youth sports activities
See the map
Share This :