Top Soccer Clubs Learn To Predict And Prevent Injuries
Share This :
By Dan Peterson, TeamSnap's sports science writer.
Each week in the world's top soccer leagues, injuries take an expensive toll.  Millions of dollars of talent left on the substitutes bench or back in the training room, risking their team's place in the standings.
In the past, injuries were an accepted part of the game, but new training and prevention techniques and tools have emerged that allow coaches and players to monitor their training load and proactively predict risk factors to avoid downtime.
In the top European leagues, as well as many elite youth leagues, players can play between an average of 1.5 to 2 games per week for a 10-11 month season.  Factor in multiple training sessions, travel and the ongoing stress of competition and the likelihood of injuries and missed games increase.  Previous research has shown that the most likely predictor of future injuries is a history of a similar injury.
In fact, in a recent study, across elite adult male soccer players, there were 24.6 to 34.8 injuries per 1000 competitive match hours and 5.8 to 7.6 injuries per 1000 training hours.  Specifically, 92% of soccer-related injuries are to the leg muscles: hamstrings, 37%; adductors, 23%; quadriceps 19% and calf muscles, 13%.
Teams at all levels need a structured, long-term injury prevention program to have any real effect.  Only sustained biomechanical and neuromuscular changes in a player will make an impact on their availability for training and games.
One team in Major League Soccer that has invested in a prevention program, and sports science in general, is the Seattle Sounders.  General Manager Adrian Hanauer and Head Coach Sigi Schmid knew they had to manage their players' health proactively to be successful through an entire season.  Enter David Tenney, lead fitness coach, to implement a complete training and injury prevention program.
"Being the business person and leader that he is, and being extremely into data, [Adrian Hanaauer] wants to be at the forefront of what people are doing with technology and analytics," Tenney explained in Forbes. "I think being in the environment we're in with Seattle, this is an aspect of the club he really wants to drive.
Through the acquisition of gigabytes of daily training data, Tenney is building prediction algorithms and models to better interpret player performance.
"What I've tried to stress just in what we've done in the last few months is to try and refine and create some probability models," said Tenney. "I really think that a year from now that kind of probability model will be in place.  That our coaching staff will embrace it, and I think they will because it's a lot better feedback to the coaches to move from saying, 'Well I think this guy worked hard this week but should be OK this weekend,' to 'Based upon our data, this player has X% chance of injury, he's fresh and he should play well."
The key to developing this type of prediction system is the consistent daily collection of training data, including not only discrete measures such as GPS distance and heart rate but also subjective measures including sleep quality, mood and stress.  This complete player profile is required to begin to understand the integrated factors leading up to an injury.
Jean-Pierre Meersseman, a Belgian chiropractor, is seen by many as the pioneer for injury prevention and understanding a player from a total mind-body perspective.  As founder of the famous Milan Lab at AC Milan, he prolonged the careers of many injury-prone players including Clarence Seedorf, Paolo Maldini and even David Beckham during his short stay at Milan.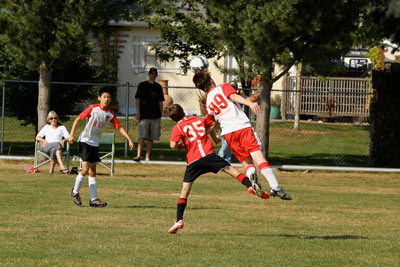 "That was one of the reasons why I started measuring everything," Meersseman told the Guardian.  "All the top clubs have cardiologists, knee specialists and so on — but sometimes it's difficult to look at the whole and that's what we are trying to do.
He recently moved from Milan to England and has set-up an independent clinic for EPL players.  The demand for his approach has been very high.  Carly Barnes, a sports lawyer and player agent, understands why teams are so interested. "Players are now enormous assets and, if they get injured, a club risks an enormous plunge in value," she told the Guardian.
Does this type of data gathering and analysis work?  In the first year of the Milan Lab, total practice days lost to injury were down 43%, use of medicines were down 70%, and overall player injuries dropped by two-thirds.  That is one investment with a strong return.
Daniel Peterson is an author and consultant specializing at the intersection of neuroscience and sports performance. He is the co-founder and director of 80 Percent Mental Consulting, along with Dr. Leonard Zaichkowsky, world-renowned sports performance psychologist and former professor at Boston University. Their new book, The Playmaker's Advantage,  published by Jeter Publishing/Simon & Schuster, is available wherever books are sold.
---
National data actively tracking the safe return of youth sports activities
See the map
Share This :