Wrapping Up The Fall Sports Season
Share This :
The fall sports season is coming to an end and winter sports are around the corner. Most football, soccer and volleyball teams are winding down, with just the final few playoff and championship games left to play.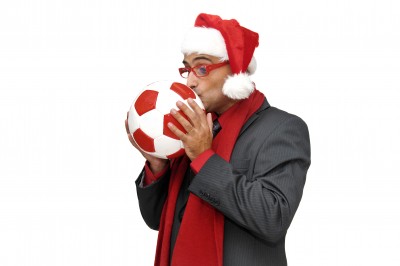 If you're the team manager, you're probably looking forward to the holidays as a time to take a well-deserved break from all the logistics and coordination involved in keeping a youth sports team running smoothly. But before you trade your team manager's hat for a Santa hat (or maybe a nice, warm wool beanie!), here are some thoughts as you wrap up the season and turn to wrapping gifts:
1. Collect and wash the uniforms. Depending on your league, you may need to turn in jerseys and other uniform items or equipment. Whether you have a uniform coordinator or not, make sure all players turn in the required items after the last game or you will spend months tracking down one lone jersey across town! Don't forget to wash them before you turn them into the league; it's pretty amazing how bad a few unwashed jerseys can smell after just a couple of months!
2. Celebrate a successful season. It doesn't have to be elaborate, but it's nice to end the season with a pizza or burrito party for the kids—and the parents. Organize a small gift for the coach and assistant coach, if you have one, in recognition of the massive amounts of time they put into the team during the season. The end-of-season party is also a nice time for the coach to recognize each player's accomplishments and improvements throughout the season in front of the child's peers with a short speech or comment. Recognition like that means more to the kids than a dust-catching trophy.
3. Discuss off-season training activities for the players with the coach. The holiday break is a great time for players to improve skills and continue developing a love of whatever sport (or sports) they are into. Many colleges and universities as well as city recreation departments offer camps and skills training over the holiday break. In colder climates, indoor training facilities offer a nice alternative to playing outside in the rain or snow. Check out your options and let the team know. Maybe it can be a team-wide activity over the holidays!
4. Thank the parents. No matter what, the players would never have made it to the field or gym or pool if the parents hadn't driven them there. If your team had a snack schedule, the kids wouldn't have had post-game nutrition if the parents hadn't coordinated the effort. A simple email from you, the team manager, thanking the parents – and asking for feedback – is a nice touch that can lay the groundwork for even better communications and coordination next season!
Emily Cohen is a freelance writer living in Berkeley, California. An avid tennis player and swimmer, Emily has a son who plays high school baseball and a daughter who plays on a Class I soccer team and middle school volleyball team. She has been a team manager for a number of her children's sports teams. You can find Emily's bi-weekly blog about team management and youth sports parenting here at tsblogadmin.wpengine.com. Check out the rest of Emily's work at www.emily-writes.com or contact her at [email protected]
---
National data actively tracking the safe return of youth sports activities
See the map
Share This :