Go Green With Your Team: Raising The Bar of Sustainability in Sports
Share This :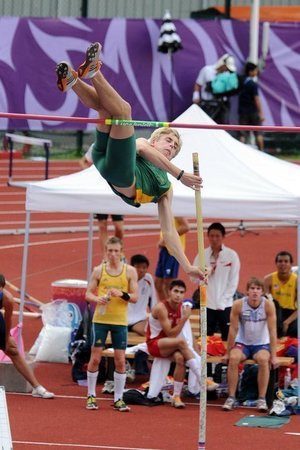 When the St. Louis Cardinals played the Texas Rangers last week in Games 1 and 2 of the 2011 World Series, there were a lot of 'green' things at Busch Stadium other than the grass on the field. A member of the Green Sports Alliance (GSA), the not-for-profit brainchild of the National Resources Defense Council (NRDC) and Paul Allen (owner of the Portland Trail Blazers, the Seattle Seahawks, and co-owner of the Seattle Sounders), the Cardinals are one of 20+ professional sports teams to commit to making tangible changes in their facilities to conserve energy and promote sustainability. These efforts include installing lighting occupancy sensors, adding solar panels, introducing in-stadium recycling programs, reducing water consumption and energy usage, and even handing out compost bags as giveaways!
But you don't have to be a member of the Green Sports Alliance or part of a professional sports team to make a difference in your neighborhood and our overall environment. Many youth sports leagues across the country have begun introducing and supporting sustainability initiatives to help keep their communities cleaner and teach players about their impact on the environment
Here are some things your team – or league – can do to be 'greener' and help our planet.
Recycling at the Field
It's easy to be a good community member by helping keep your neighborhood fields clean while teaching players about composting and the responsible disposal of waste at the same time! Many leagues have joined forces with local recycling firms to distribute composting bags to each team, ensuring the off-site disposal of team trash. Even if you don't formalize the effort, you can name a 'sustainability coordinator' to bring compost and/or trash bags to every game, so you can lessen the environmental impact associated with youth sports and ensure that the games will be enjoyed my many future generations.
Reusable Water Bottles
Did you know that Americans buy an estimated 28 billion (yes, billion) plastic bottles every year? That's a lot of plastic. The more depressing statistic is that nearly eight out of every 10 bottles ends up in a landfill, rather than being recycled. You see them littering our streets, our parks, and yes, our sports fields. Yes, they're convenient, but they also have a significant impact on our environment.
Plus, studies now show that if you keep reusing these PET (polyethylene terephthalate) bottles, refilling them with water in an attempt to be a little more 'green', the phlalate begins to break down and leach out, causing serious health risks. A better option is to invest in a reusable BPA-free plastic, glass, aluminum or stainless steel water bottle for your youth athlete. You can feel good that your athlete is staying hydrated while you're also being eco-conscious.
Carpooling
Carpooling to practices and games not only saves gas, it also encourages bonding among the players – and parents – who are carpooling. What more could you want? Especially for far-away league games and tournaments, carpooling makes sense environmentally and socially.
As a team manager, you can designate a parent to be your 'carpool coordinator', helping you to make sure every player has a ride to practices and games—and that your team is doing its best to conserve gasoline and other natural resources.
Online Team Management
I know it sounds gratuitous, but it's true. Online team management eliminates nearly all the paper requirements of a team: phone directory, parent and player code-of-conduct forms, sign-up sheets, directions to game fields, snack sign-ups, and more.
When you use online team management software, like TeamSnap, you not only streamline your team activities, you also save trees, helping our environment!
Do you have any other ideas on how your team or league can be more 'green'? Let us know.
Oh, and by the way, don't print this blog….save a tree!
---
National data actively tracking the safe return of youth sports activities
See the map
Share This :