Using TeamSnap to Manage Volunteers
Share This :
Volunteers are angels disguised in team shirts. They help set up before a game, match or meet; they help break down after; and they're always first to offer their place for the pizza party after. We love them, and we're sure you do too.
So how do you make sure volunteers are getting the information they need through TeamSnap? It's simple!
If you go to the Roster tab, there's a section for non-players. This is a great place to put folks like team parents, managers, mascots and, you guessed it, volunteers. Simply add them as a roster member, then check the small box at the bottom of the entry page that reads "This person is a non-playing member of the team."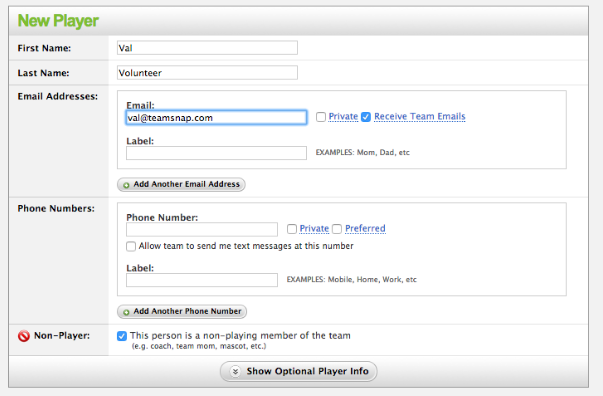 This ensures that the volunteer will receive the same schedule, messages and TeamSnap Live! updates the rest of the team does. Now, to assign volunteers specific jobs to do, simply go to the Refreshments tab. Choose which game, practice or event you want to assign a job for, choose the person's name from a drop-down menu, then assign something to do or bring. You can put anything here!
That's it! You can customize the events and jobs you want people to do based on your needs. Everyone stays connected, everyone stays happy. That's TeamSnap!
Stephanie Gonzalez is the director of marketing communications for TeamSnap. When she's not manning the marketing department's helm, you can find Stephanie playing lawn games or working on her 95-year-old craftsman home in Memphis, Tenn.
---
National data actively tracking the safe return of youth sports activities
See the map
Share This :