Keep up the Competitive Spirit with Head to Head Challenges
Share This :
We play sports for many reasons—exercise, teamwork, and competitive spirit! And, perhaps most of all, we play FOR FUN! 
Even though the season is over or postponed, the fun doesn't have to stop. TeamSnap can help your team keep up competitive conditioning with head-to-head challenges.
A head-to-head (H2H) challenge is when two people compete one-on-one against each other in a specific activity. This is a great way to encourage friendly competition, condition athletes and foster teamwork year-round. 
Here's how to get started: 
First, schedule a head-to-head event.
 
We recommend scheduling a long event, somewhere between 8-12 hours. That way everyone has time to participate in multiple challenges.  
Next, encourage players to create H2H assignments.
 
Players must include their name and the challenge they want to participate in. 

Here are some H2H challenges to get you started
:Â 
How many mountain climbers can you do in two minutes?

How many jump squats can you do in 90 seconds? 

How fast can you run a mile?

How long can you hold a plank?

How many times can you juggle a soccer ball?

How long can you hold a wall sit?

How many bouncing ball racket drills can you do?

How many pushups can you do in one minute?

How many wall touch dribbling drills can you do?
After you create the challenges, players can sign up.
Each player can choose to sign up for the H2H challenge, or a player can assign the challenge to a fellow teammate.
Encourage friendly competition by sharing H2H recordings with the team using TeamSnap Live!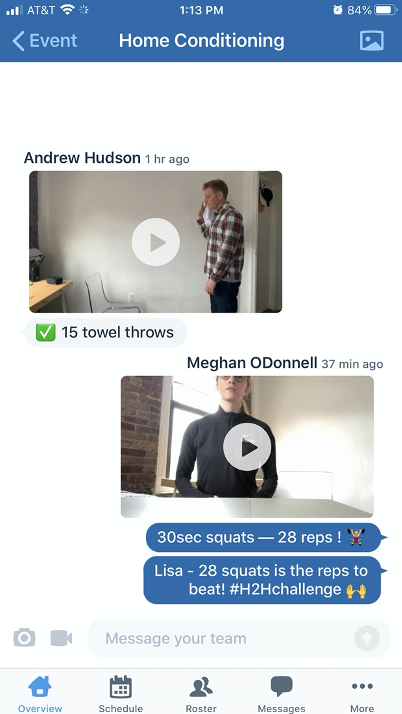 BONUS: If you're on a paid plan, set up the H2H challenge as a game and record the statistics for each players' H2H conditioning challenge.  
We'd love to see your H2H challenges! Share your best ideas and videos on social media. Be sure to tag TeamSnap and use the hashtag #TeamSnapH2H.
---
Navigate COVID-19 With TeamSnap
To better assist you through this, we created a hub that includes resources and tips to help you lead your sports organization, team or group during this uncertain time. Keep checking back as new content becomes available. Visit the hub now.
---
National data actively tracking the safe return of youth sports activities
See the map
Share This :