Teams: How to Use TeamSnap @ Home
Share This :
How to Use TeamSnap @ Home
Welcome to the TeamSnap @ Home Guide! In this article, you will find tips and tricks curated by our users and TeamSnap staff to help your team get through the COVID-19 pandemic. 
We've broken down each TeamSnap feature into sections, with tips on everything from communicating and engaging with your team to remote competitions and workout tracking. 
This guide is updated regularly by the TeamSnap team.
If you have a tip for how to use TeamSnap to manage your teams, family, and/or life while at home, please share by filling out this short form! Your experience will help other teams. Thank you for your support!
---
ASSIGNMENTS
Use assignments to assign unique drills to each player and position. 
   
     
Assign a different set of drills to each player/position or use Lineups to assign workouts based on position with the positions as codes for workouts.  

Assign a different player to come up with a daily conditioning plan for the team, sport skill for the team, etc. 

Head to Head (H2H) Challenge: Players can set a challenge as an assignment and have one other member sign up to accept the challenge.
Note: The player's name would have to be in the assignment.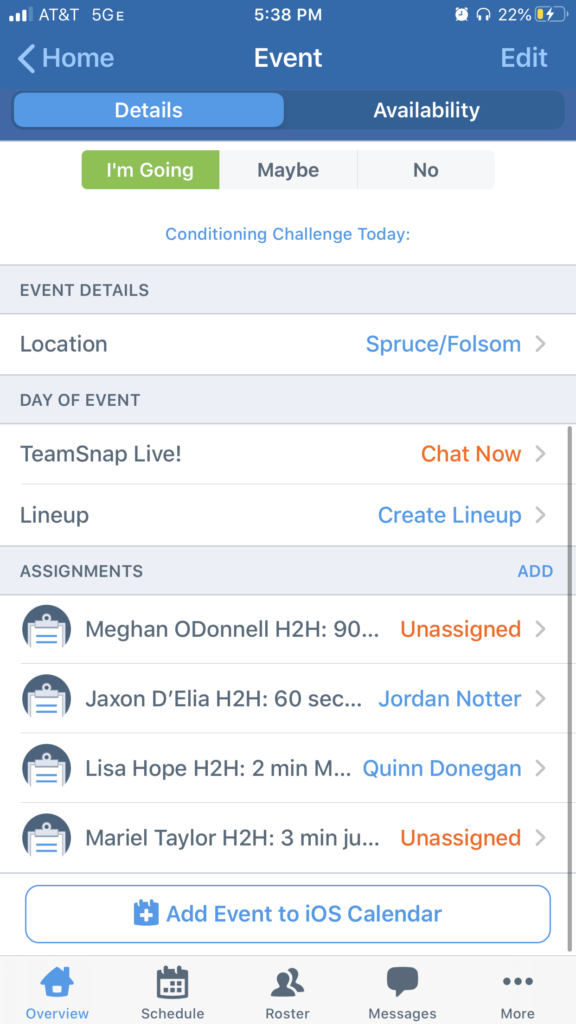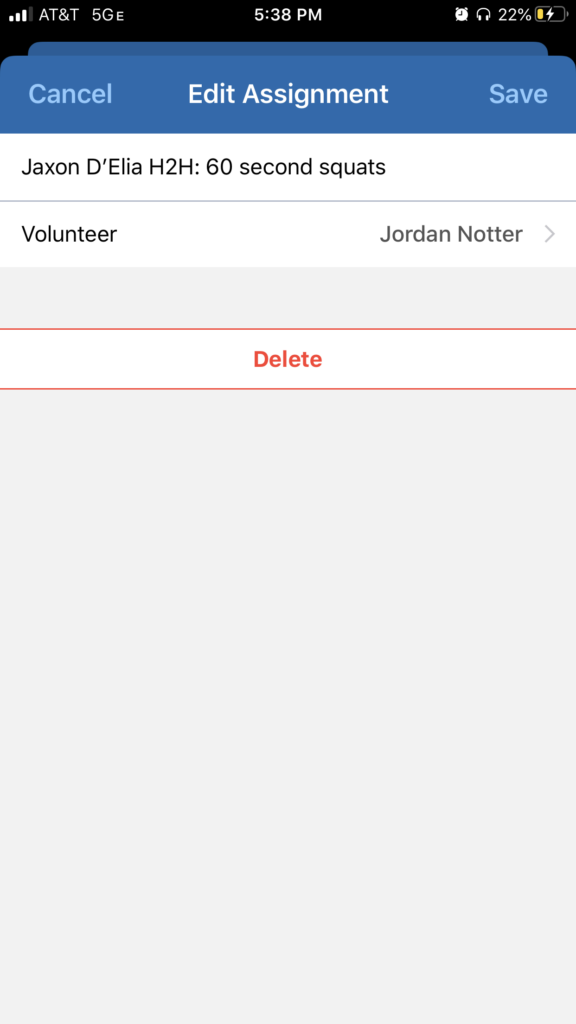 Resources from the Help Center
---
CHAT
Stay connected and sane!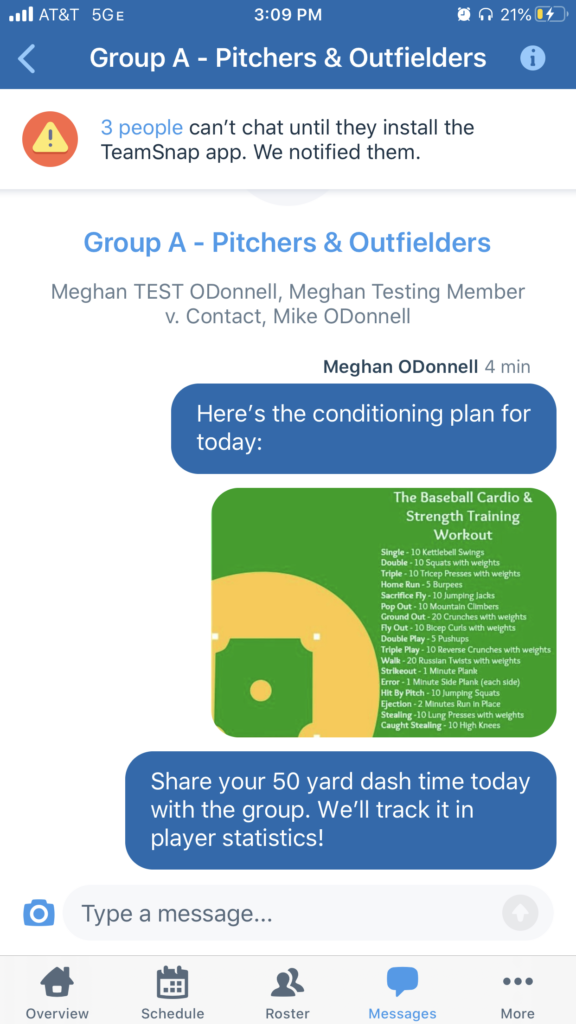 Start a coach and team member group chat to encourage each other while you stay in shape at home. 

Share YouTube links of workouts, skills and drills.

Coach can share photos demonstrating moves.

Players can share photos performing workouts at home. 

Set up a group chat for small group conditioning challenges. 
Resources from the Help Center
---
TEAMSNAP LIVE!
Start a friendly competition with your teammates.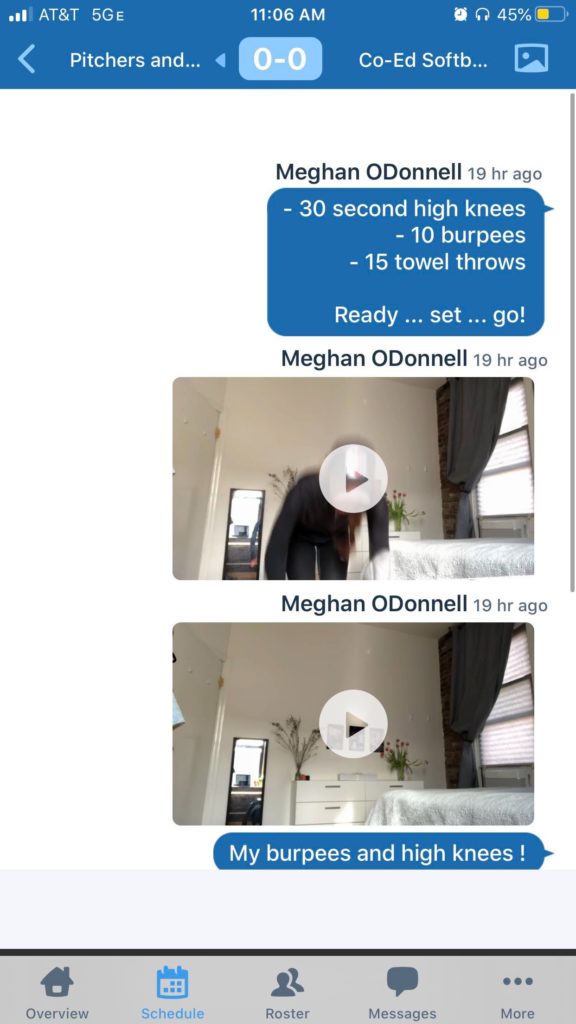 Who can do more pushups? Who can hold a squat the longest? Challenge accepted! Create a 2-3 hour game and then use TeamSnap Live! to let your players record their moves to share with the team.

See how your teammates and players are conditioning and executing skill and drill challenges.

Share the daily conditioning, skill & drill plan in the TeamSnap Live! chat.
Resources from the Help Center
---
*Bonus: If your team is on a paid plan, you have access to three premium features: Availability, Tracking and Statistics.*
AVAILABILITY
Use availability to assign and track remote practices and drills.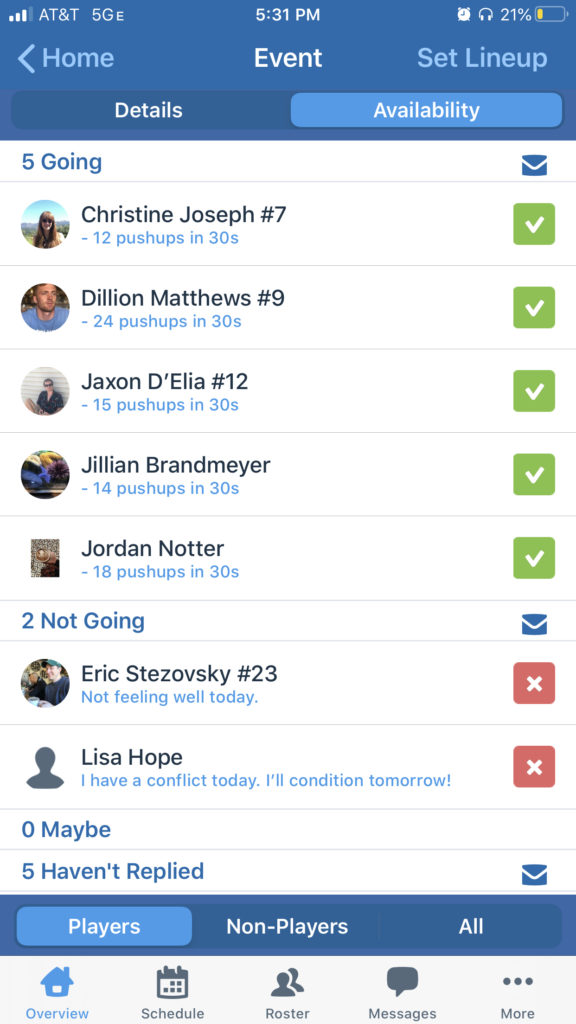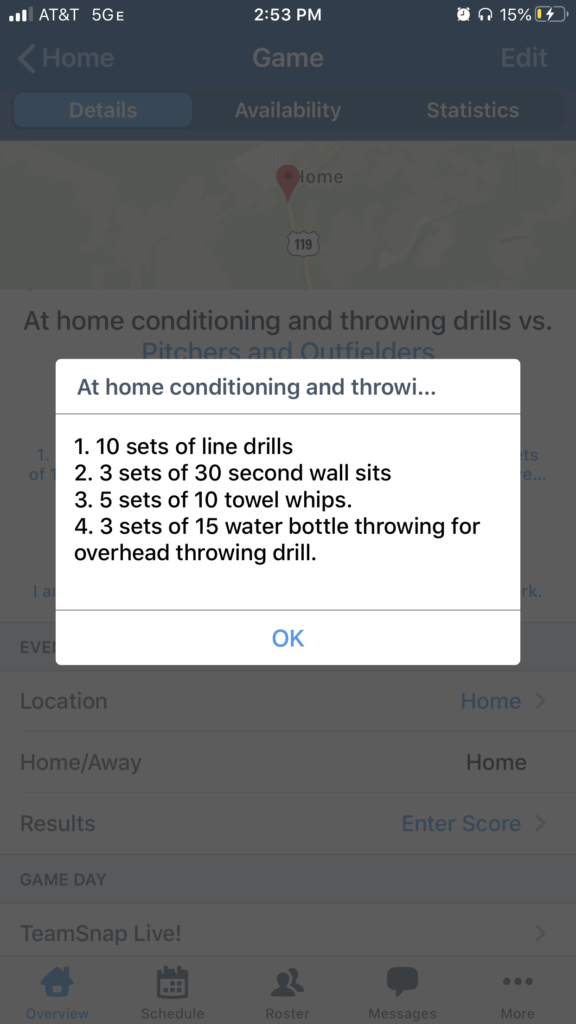 Create a new Event.

If everyone on the team does the same drills and workouts, add them to the Notes section of the event. (

Update availability settings

so the team can see availability notes. In the webapp, go to Availability settings and check

"Availability notes are viewable by everyone on the team.")

You can put PDFs or links documents in the Media tab if needed to further explain what each drill is, or you can provide a link to a video.

Once the player completes the workouts, they can RSVP yes.
Resources from the Help Center
Note: Availability is a feature offered on our paid plans.
---
TRACKING
Track players that complete assigned conditioning and skills & drills. Only coaches and managers can track player progress; however, the whole team can view player progress if you update Item Tracking Privacy team preferences on the web app. Tracking is a great feature to record who completed specific daily or weekly workouts.
Coaches can check off players that have and have not completed daily workouts from chat or TeamSnap Live! messages.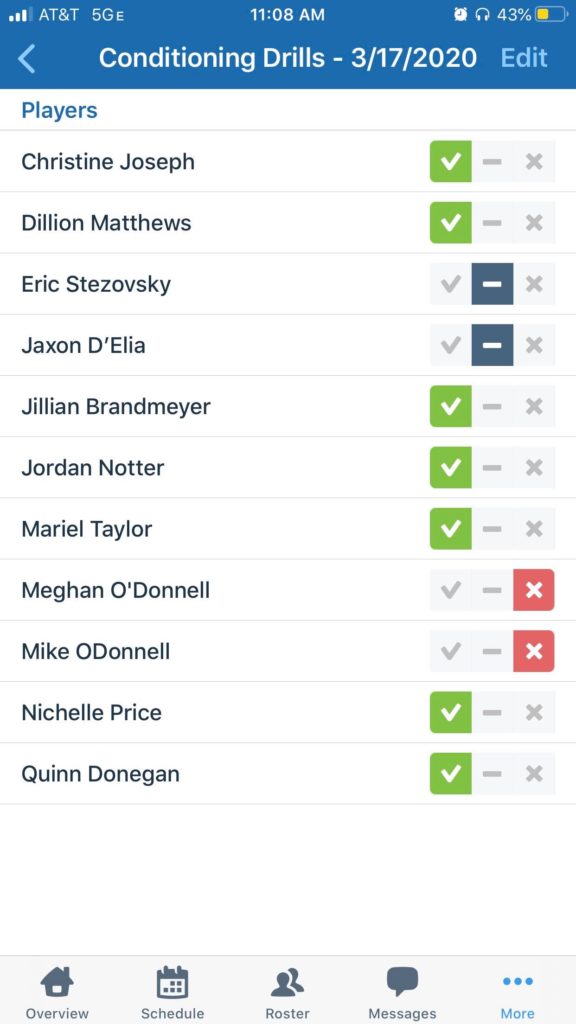 Once the Item Tracking preferences are updated, players can see how many of their teammates have completed daily or weekly workouts. 
Resources from the Help Center
Note: Tracking is a feature offered on our paid plans.
---
STATISTICS
Team owners and managers can track at-home practices and progress using player statistics: 3-mile run times, situp repetitions, soccer juggling, softball drills, etc.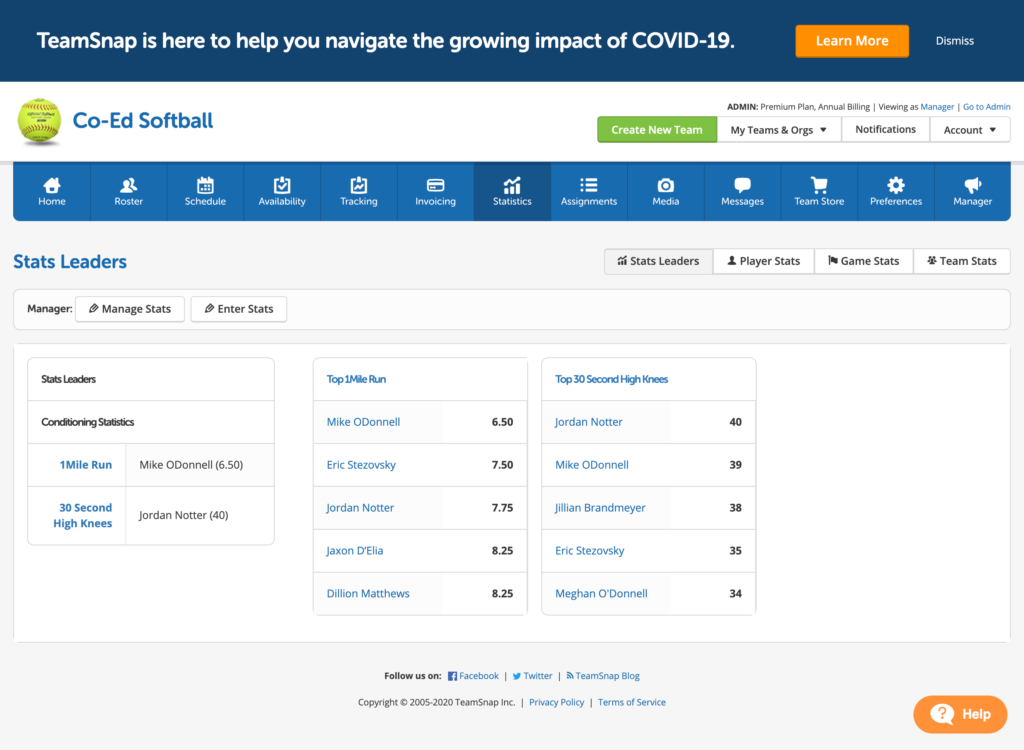 Create a new statistic and statistic group (e.g., conditioning).  We recommend recording repetitions in a timeframe because TeamSnap currently does not support timed statistics. Time statistics will need to be recorded as a fraction.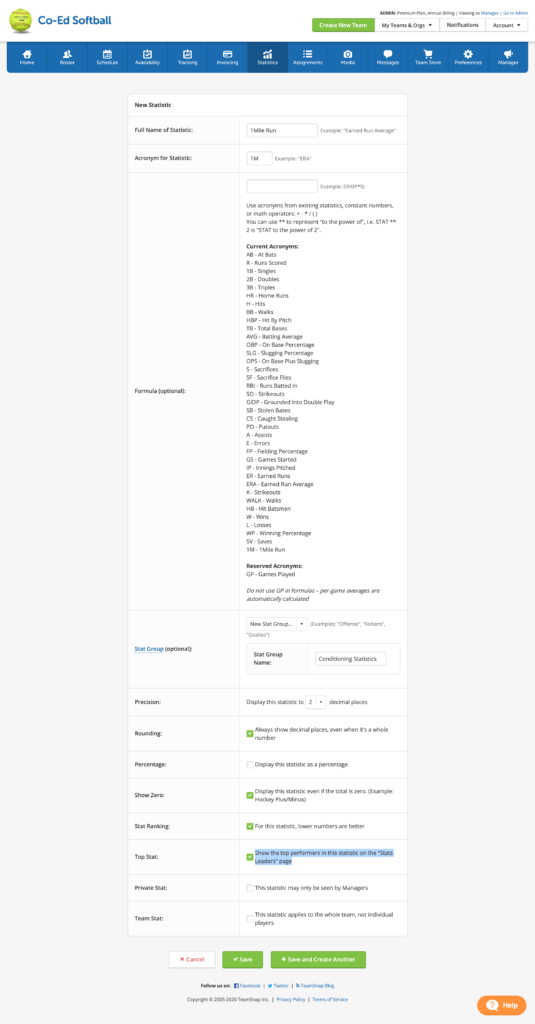 Track conditioning and drill leaders on the statistic leaderboard for each virtual game your team hosts.
Note: Statistics is a feature offered on our paid plans.
Resources from the Help Center
---
Navigate COVID-19 With TeamSnap
To better assist you through this, we created a hub that includes resources and tips to help you lead your sports organization, team or group during this uncertain time. Keep checking back as new content becomes available. Visit the hub now.
---
National data actively tracking the safe return of youth sports activities
See the map
Share This :