Feature Update Alert: Self-Service Club Sign Up and Refer a Friend
Share This :
As always, many of the bells and whistles we put into TeamSnap are inspired by suggestions from you, our ultra-dedicated customers, so keep those coming. Simply email your ideas, suggestions, hopes and dreams to [email protected].
New "Self-Service" Club & League Marketplace
Our Club and League specialists are delightful conversationalists, but we know not everybody enjoys phone time. Now, clubs and leagues can get started with a free trial or paid account of our Club/League Solution right away without first needing to talk to a TeamSnap sales staffer. One of our account managers will follow up with you shortly after sign-up to make sure you're not having any trouble or need any questions answered, but you won't have to wait until a Monday morning to get started if that "weekend urge" strikes. You didn't know we had a Club and League solution? Well, find out more now!
Refer a Friend!
We assume you use TeamSnap because it helps you save time with your team and keep all the details organized, and not because it's an intricate part of a long con. But hey, who knows!? If you're enjoying TeamSnap and know a coach who could benefit from our organizational assistance or a team manager who's still using emails and notepads for keeping everyone informed, just send them a quick email via our web app and we'll send along all the particulars. You'll find the new Refer a Friend tab near the bottom of the mobile dashboard and on your teams homepage in the web app. We certainly thank you for the referral, and they might too!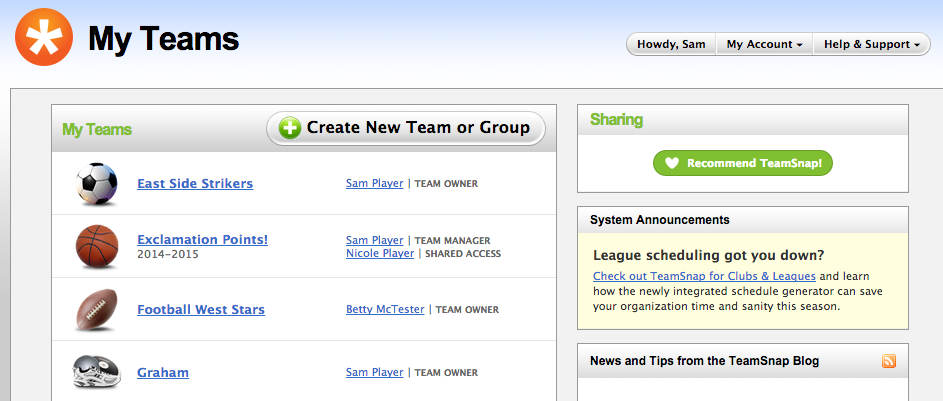 Sam is our Strategic Product Manager, which means if you don't like something about how TeamSnap works, he's the guy to yell at. He's primarily responsible for understanding what our customers want, both with the existing product and what the product needs to be, and then applying what he learns to help shape our future roadmap. He's been an avid user of TeamSnap since 2011, using it to manage the sporting lives of his two daughters.
---
National data actively tracking the safe return of youth sports activities
See the map
Share This :