Why Wasn't Marcus Smart "Idiot-Proof"?
Share This :
I love the Olympics. Truth be told, I'm more of a sucker for the Summer Games, especially swimming, but what I really love most of all are the amazing stories of perseverance and focus by athletes from around the world. Athletes who toil in obscurity to excel in biathlon, skiathlon, bobsledding, luge, and yes, curling.
I'll bet not one of them has ever had to deal with what Marcus Smart, the 19-year-old guard for the Oklahoma State Cowboys basketball team had to this weekend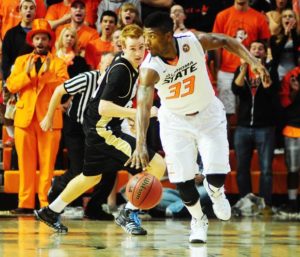 : being heckled by a middle-aged man, a self-proclaimed "super fan" of the Texas Tech Red Raiders, after Smart landed in the stands behind the basket on Saturday.
According to news reports and audio of the exchange released by the Texas Tech athletic department, the fan, Jeff Orr, yelled "You piece of crap!" at Smart, at which point Smart shoved Orr.
I've read the reports that Smart is a 'hothead' and has 'a reputation.' I'm not going to make any judgments about that, because I don't know him, but I will say that I have an extremely difficult time with the amount of blame being thrown at Smart – a teenage athlete in the middle of a highly competitive basketball game – and very little at the 50-something year-old man who decides that it's a good idea to bully that kid, as well at as the other adults in positions of authority on the court that day.
I'm not saying that Smart was right to shove the fan and shouldn't be suspended – he wasn't and should be, because he has an obligation to behave appropriately as a representative of his university. But he was let down by the other adults who should be guiding him.
I've read reports that this fan has been known to be 'over the top' and obnoxious many times before, according to former players as well as coaches at both Texas Tech and opposing schools. That means that other players have been bullied by Orr from the stands for years. Why was that behavior ignored by the administration at Texas Tech? Because he paid for his 'right' to bully teenagers? Because he donates money to the program and they don't want to lose that?
And where were the Texas Tech coaches who should be providing a supportive environment for their student-athletes and yes, showing, these teens and young adults how to behave? Why did Travis Ford, the Cowboys' head coach, leave Smart on the floor instead of sending him back to the locker room to cool off and have an assistant coach talk through the situation? Why didn't an assistant coach step up and do the right thing himself and take Smart off the floor?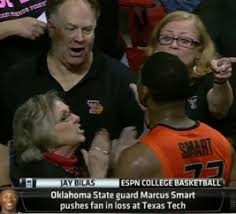 Coaches too often forget that they are not just teachers of the game, but also teachers of life. One of the best lessons my son has ever received, from his pitching coach, is how to be 'idiot-proof' – how to ignore the jerks in the stands yelling, "What's wrong with you, pitcher? Can't you throw a strike?" and "You suck!" as well as the umps making bad calls, coaches making decisions you don't agree with, and teammates dropping routine fly balls.
At every pitching lesson, the coach talks about the mental aspects of being an athlete, not just the physical ones. My husband and I often joke that we are paying for a psychologist, not a pitching coach! But we recognize how important that piece of the puzzle is in our son's maturity and ability to pitch in high school and beyond – and to deal with the Jeff Orrs and other adults who let him down throughout his career – and in life.
The bottom line is that, while Smart is taking the brunt of the consequences in this regrettable situation, the adults – who should know better – are shouldering none of the blame and accepting none of the responsibility. And therein lies the problem.
Emily Cohen is a freelance writer living in Berkeley, California. An avid tennis player and swimmer, Emily has a son who plays varsity high school baseball and a daughter who plays varsity high school tennis as well as club and high school soccer. She has been a team manager for a number of her children's sports teams. You can find Emily's blog about team management and youth sports parenting here at tsblogadmin.wpengine.com. Follow her on Twitter at @emilygcohen or email her at [email protected]
---
National data actively tracking the safe return of youth sports activities
See the map
Share This :