Introducing a New Way to Collect Payments
Share This :
Today we are excited to introduce our new Invoicing feature, currently available in the U.S. only. Invoicing can help you manage payment collection online for everything and pulls up-to-date information from your TeamSnap roster and player profiles — keeping all the information you need in one place.
No matter how big or small your organization is, Invoicing will streamline collections for everything from mid-season dues and tournament fees to uniforms and extra facility time.
You'll save hours managing payments in one secure location and have everything deposited directly into your bank account, which means no more one-off checks, trips to the bank or exposing your organization to unsafe collection practices. Your record keeping will improve and you'll always get paid — upfront and on time.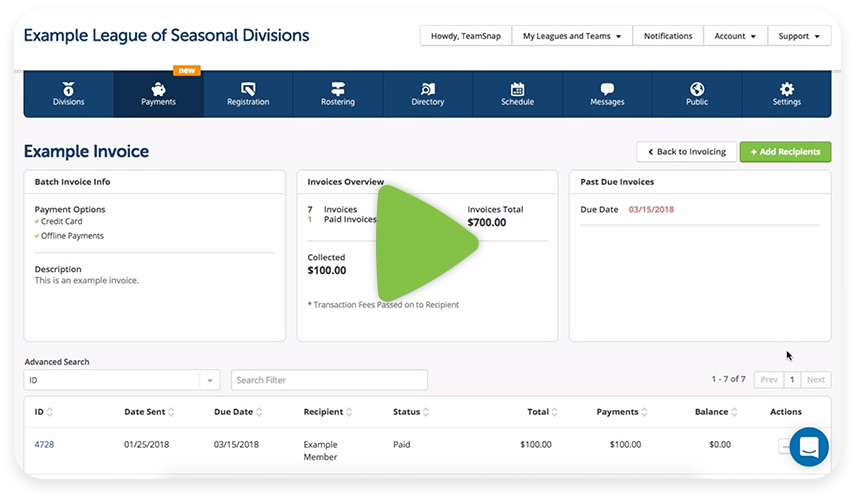 Challenges of managing money
Listening to customer feedback from coaches, team managers, club directors and administrators is a key part of being a product manager at TeamSnap. Understanding their daily challenges helps us enhance our products in order to fulfill our mission — to enable everyone to spend more time playing and less time organizing.
One of my favorite stories is from Matt. Matt is a coach for a sports club that has about 50 teams. When Matt's team qualifies for a tournament there is a fee to compete. Rather than collecting payment online, each player gives Matt a check or cash to cover the fee as they board the tournament-bound bus, thereby gaining admittance. Matt is liable for carrying a large sum of money for the entire tournament.
The other story we hear frequently comes from club administrators. While they may accept Venmo and Square Cash, their payment system is not integrated with TeamSnap Registration and player profiles. They are constantly going back-and-forth between payment tools, team rosters and their email inbox, trying to determine who has paid and who has not. It's a disjointed process that takes hours to manage.
TeamSnap for Clubs & Leagues helps sports organizations manage registration, communication, scheduling, website creation and other time-consuming tasks. We developed our new Invoicing feature to solve the money management pain points our customers experience throughout the season.
Joining a movement to help parents
At TeamSnap we half-jokingly say that Invoicing is our way of joining the movement to end MPTFC (Millennial Parents Trying to Find a Checkbook). While we find that sentiment funny — it's actually true. The vast majority of parents would prefer to manage transactions online. According to FirstData, more than a fifth of all millennials have never written a physical check to pay a bill and 94% are active users of online banking. Plus, Accenture predicts by 2020, online or mobile transactions will be the preferred payment method by all consumers.
Now with TeamSnap Invoicing, parents will receive an email notification and can pay from their computer or mobile device — an easy, time-saving process they are accustomed to and expect.
Early customer feedback
We have been busy testing Invoicing with a handful of customers over the last month and feedback has been extremely positive:
"I was able to process the payment and issue the refund without any problems. I also took a deeper dive into this and think it is going to be a huge time saver for us! Hooray! I'm going to shift our entire uniform payment collection online using TeamSnap Invoicing for this season." Bob S., Soccer Club Head Coach
"Parents remember they owe money when they see me at practice or at a game. Now I can tell them to find the invoice email and pay it on their phone — right now." Katrina T., Girls' Lacrosse Organization Head Coach
"Being able to collect all the money one way and in one place replaces the old method that was a nightmare of reconciling different online methods, checks and any other way people wanted to pay. Now I can track it all in TeamSnap." Vince R., Commissioner of a Multisport Nonprofit Organization
How to try it out?
If you're an existing Club & League customer, you can find Invoicing by visiting the Payments tab in your account and follow the steps below:
Answer a few simple questions to connect your bank account to WePay, our payment processing partner. Then you'll be ready to create your first invoice.
Send invoices to entire teams, individual players or the whole organization.
Track who has paid and who hasn't and easily send payment reminders.
If you are not a Club & League customer and would like to learn more, reach out to our sales team for more information.
You can also take a look at our short video for more information on Invoicing.
As with everything we do at TeamSnap, we hope this new feature helps you spend more time playing and less time organizing. If you have any feedback about Invoicing, please send your thoughts to the product team.
Stephanie Cipresse is a Senior Product Manager for TeamSnap Clubs & Leagues. When she's not thinking about the collection of money she enjoys spending time with her family, yoga-ing, hiking with the dog and managing her kids' sports teams with TeamSnap. 
---
National data actively tracking the safe return of youth sports activities
See the map
Share This :