Celebrating Our TeamSnap Dads
Share This :
Whether they are cheering from the sidelines, playing catch in the backyard after practice, or being a coach and leader in their community, a father's role in any young athlete's life and sports experience is so many things wrapped into one.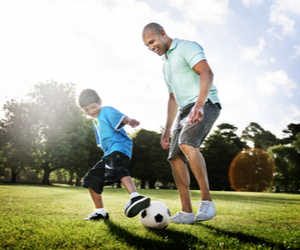 In celebration of Father's Day, we asked our TeamSnap dads to tell us what fathering or coaching an athlete (or their own kiddo!) means to them. Their answers are inspiring us all to continue mentoring, educating and pushing all young athletes to be their best knowing they always have their biggest fan (Dad!) backing them up.
We want to hear from you! Share what fathering or coaching an athlete means to you.
"Fathering an athlete (or in my case athletes!) has been an amazing experience: not only do I get to see them play the same sports I played at their age (which is so much fun!), I also get the opportunity to experience sports I never tried (I never played organized basketball, volleyball or ballet — which is just as grueling as any traditional sport!), I get to see them experience the thrill of victory and agony of defeat…and learn the life skills and experience the personal development that sports bring." – Joel Tesch, Director of Sales
"Being the father of a pair of little athletes is one of the most rewarding experiences I have had. I solidify my confidence in their future success as I see them learn the value of practice and perseverance. They gain confidence in themselves today by competing—and beating—older and strong competitors. I could not be any prouder than when I watch them compete and see them revel in their victory or reflect after their defeat." – Shane Emmons, Chief Technology Officer
"It gave me the opportunity to bond with my daughter in a way that I never would have been able to otherwise. I was able to install in her that hard work, effort, and hustle are essential in everything you do. I was also able to create a safe environment for her to create lifelong friendships while competing in a sport we both love." – Bob Hazen – husband to Beth Hazen, TeamSnap, Sr. Customer Success Manager
"Being a dad has many benefits. You get to see someone grow up, in my case to a teenager recognizing who they are and what they want to become as a lady. You are teaching them to kick a ball, ride a bike, and habits to improve their game. You also get to hug and console them when they realize they can't play due to broken fingers. The identity of your child will change over time and throughout it all you get to tag along as their number one fan. It's an amazing experience to be able to celebrate their accomplishments and help them through their defeats. I'm not really sure who has more to gain from the opportunity." – Todd Jewell – husband to Desiree Jewell, TeamSnap, Director of Marketing
"Sharing in my kiddos victories, working through tough defeats and seeing them learn valuable character building lessons on things like teamwork, responsibility, empathy, and communication are some of the best experiences as a father. But MY favorite part as a dad is all the moments between the practices, games and events where we shoot baskets or play a game of horse, playing catch in the living room while mom's out, rolling over the massive jumps my son hits with no fear, attempting cartwheels and impossible stretches, and so many more. Those moments I get to hang out and have fun with my kids or work with them on something new are irreplaceable and stretch me personally as I go from dad or their competition to a teacher or coach. Sports have given me so much over the years as a competitor, and they continue to give me even more as my role in sports shifts with my kids experiences."  – Josh Antweiler, Engineering Manager
---
National data actively tracking the safe return of youth sports activities
See the map
Share This :