Maximizing Registrations with Coupon Codes on TeamSnap for Business
Share This :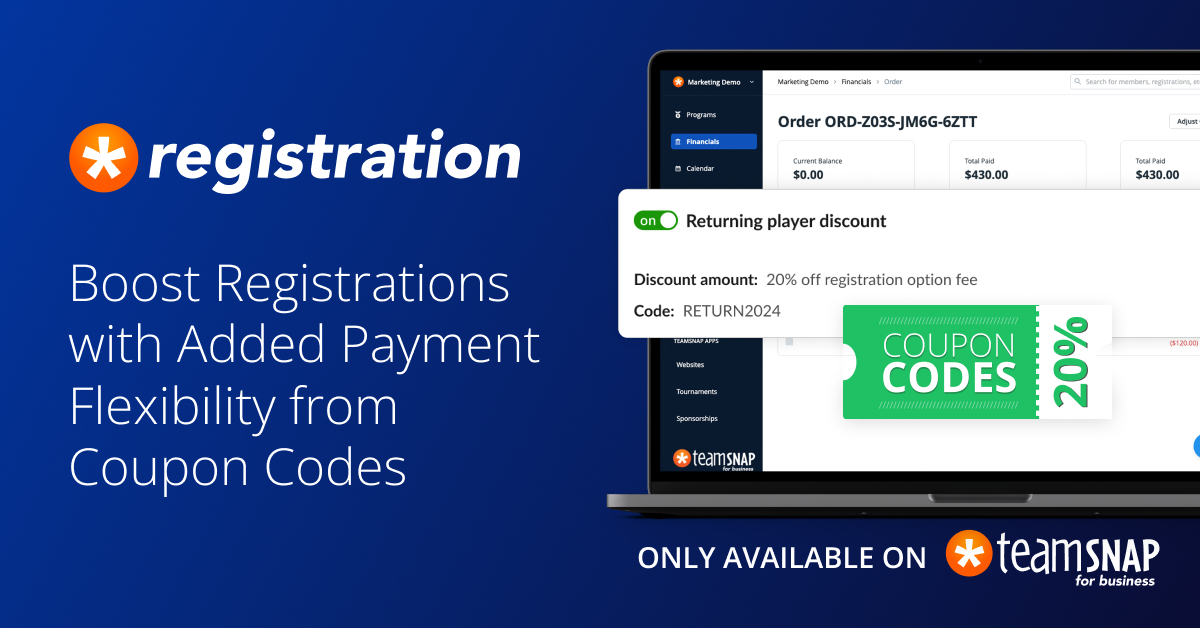 The brand-new coupon codes feature on TeamSnap for Business' Registration is a potential game-changer for your sports organization. Here is a quick guide on how to maximize your registration numbers with coupon codes, only available on TeamSnap for Business Registration.  
Youth Sports Registration Coupon Codes
Coupon codes give organizations complete flexibility to manage the fees paid by registrants. This includes the administrative ability to turn them on and off, create memorable names for each code, and even customize which fees are eligible for the discounts.
Check out the new feature, integrated directly into TeamSnap for Business' registration forms, for maximum flexibility and control over your season. This key functionality makes it easier than ever to create, customize, and distribute the discounts to incentivize customers to register quicker and easier than ever.
Benefits of Coupon Codes Sports Registration 
Adding coupon codes to your registration process is an easy way to make your programs more accessible. This is easy to use and built directly into the TeamSnap for Business platform.
Below is a list of the best benefits of utilizing coupon codes for your next registration season. 
Coupon code redemption is fast and seamless for registrants (players and parents!)

Ability to create and manage multi-use coupon codes

Flexible use: set the discount amount or percentage and date range for each coupon code

Can be used by anyone, and used multiple times by different registrants

Redeemable against selected fees: Participant Fees and/or Add-on Fees

User-friendly entry for in-process registrants 

Administrative tracking: see who uses the coupon codes, filter or archive past codes, and iterate based on which codes are most successful
How to Use Coupon Codes on TeamSnap for Business Registration
Adding coupon codes and discounts is easy through our TeamSnap for Business setup wizard. Find a full guide of setting up thsese codes at this link. 
Click 'Add Discount' in the Checkout Settings tab of your registration form. 

Enter the discount attributes 

The discount name should be descriptive to help you later identify the discount.

Select whether the discount is a percentage or flat custom amount and enter the amount.

Using the 'Rules' section, select what fees this discount or code can be added to. 

Select if the discount will be applied automatically or through the use of a code. 

Enter a unique code for registrants. 

You can activate the discount within a specific date range by toggling the date-based validity button to ON.

You can also activate an automated discount based on the number of options in the cart by switching the toggle for Qualifying # of options in cart to ON.

Click 'Create' to finalize the discount or coupon code!
---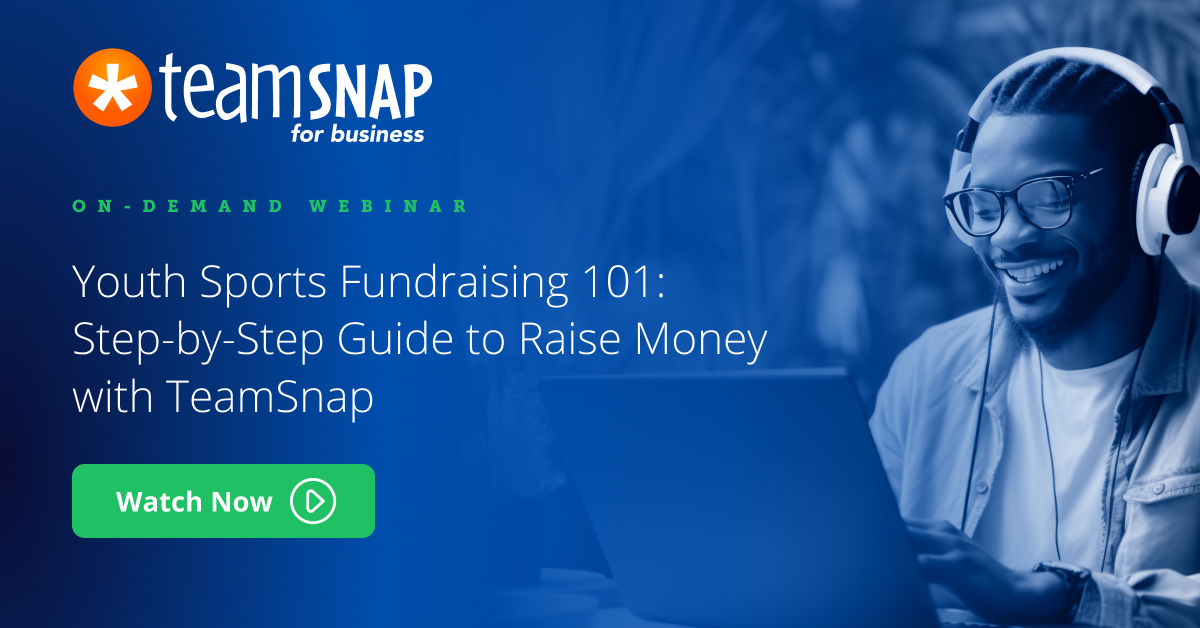 ---
 Sports Registration Coupon Codes Features:
Set the Discount:

Customize your discounts – whether it's a flat amount or a percentage off, you're in control.

Date Range

: Define the promotion period to create a sense of urgency that drives registrations.

Select Fees

: Redeemable against Participant Fees, Add-on Fees, or both – tailor your promotions to suit your needs.
TeamSnap for Business, the most complete youth sports management technology platform
TeamSnap for Business is the right set of integrated tools for your youth sports organizations.
Next Steps
Ready to learn more about TeamSnap for Business, an advanced suite of integrated tools that will help you simplify growth for your youth sports business? Sign up for a personalized 1:1 demo today.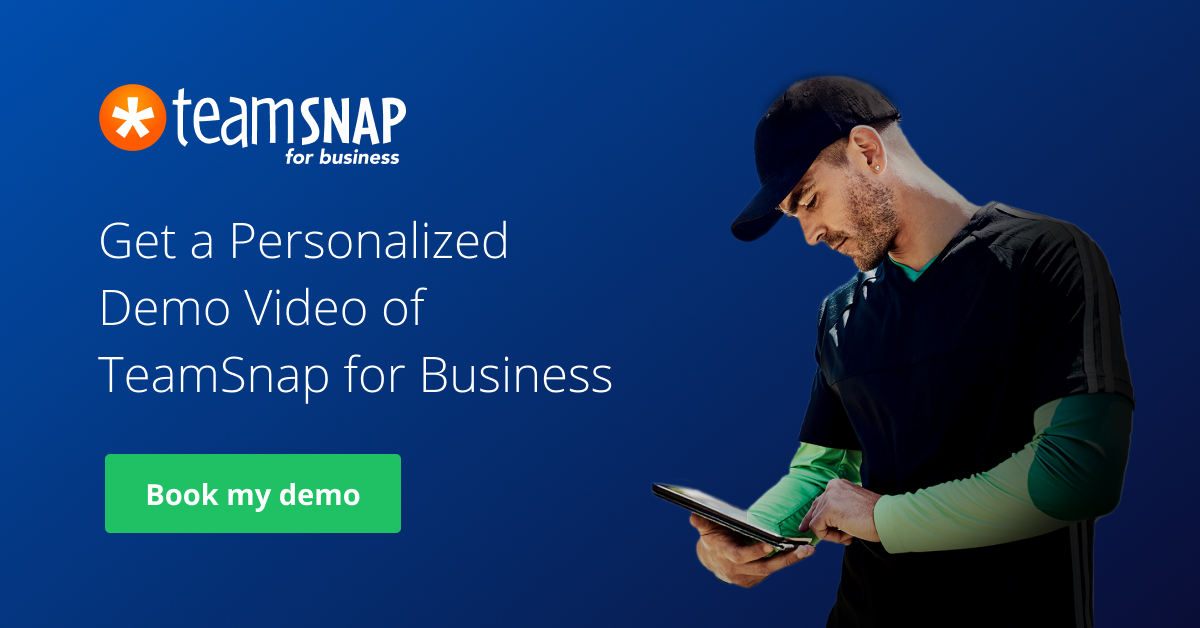 ---
National data actively tracking the safe return of youth sports activities
See the map
Share This :