Why TeamSnap Supports the Positive Coaching Alliance
Share This :
Not all matches are made in heaven, but in the case of TeamSnap and the Positive Coaching Alliance, it's true love, which is why we are honored to sponsor PCA's Double-Goal Coach® Award for the sixth consecutive year.
To completely understand the powerful connection between TeamSnap and PCA, we have to go back, back to the beginning. 
The Start of Something Big
The idea for TeamSnap grew out of a need from one of our founders. Andrew Berkowitz was having trouble organizing his soccer team, and he was exasperated trying to keep track of who could play, alerting everyone where to go, what to bring, and when to be there. He couldn't find any existing solutions, so he put together an application to address those issues.
A few thousand miles away, tech industry veteran Dave DuPont was serving as an assistant coach on his son's lacrosse team when he realized that the youth sports world was really disorganized. 
"I was interested in solving my own problem, as a coach and manager working with a variety of sports teams," said TeamSnap CEO Dave DuPont. "That involved getting people to show up at the right place, at the right time, with the right equipment—which has always been a pain. I did some looking around, and in my investigation found some guys who had already started down that path. We quit our day jobs, formed TeamSnap Inc., and it's been up and to the right ever since."
It turns out there is a tremendous need for a team management app, which is why, ten years later, TeamSnap grew into something that is now used by millions of people and trusted by millions of coaches.
TeamSnap employees have coached everything from basketball and lacrosse to swimming and tennis. In addition, we are collegiate gymnasts, professional baseball players, Ironman triathletes and marathoners. 
Meet The Positive Coaching Alliance
The Positive Coaching Alliance is a national nonprofit organization with the mission of creating a positive, character-building youth sports environment that results in better athletes and better people, a mission TeamSnap fully supports.
TeamSnap and PCA share the same passion for youth sports, and the powerful effect youth sports have on children. Forty million children participate in youth sports, creating a tremendous platform to develop character and life skills. 
As a dedicated team athlete, youth sports coach, and the son of a career military man, TeamSnap CEO Dave DuPont embodies the values of tenacity, adaptability and teamwork. He carried those lessons into his early career as an oil field engineer in Africa, honed them through leadership roles in the computer industry and made them a centerpiece of TeamSnap.
"TeamSnap's mission is to make life easier for coaches, administrators and people on teams," said Dave. "I have been involved in my own or my kids' team sports almost all my life, and know how hard running a team can be. I have felt the pain! TeamSnap truly values the work PCA does to promote a positive experience for kids in sports, a mission we share."
Research shows that in order for kids to gain these valuable benefits, youth sports need to create a positive youth development culture. PCA ensures youth sports promote the power of positive coaching with programming that is research-based and designed to have an impact at three levels in a youth sports organization or school:
Youth experience improved life skills and character development.

Coaches become more positive and increase their focus on using sports to teach life lessons.

Youth sports organizations and schools see their cultures become more positive and everyone involved has more fun.
How do TeamSnap and PCA work together?
In addition to being a sponsor of PCA, TeamSnap is part of PCA's Trusted Resources Program, a program which promotes tools that help the schools and youth sports organizations who partner with PCA. 
"TeamSnap is committed to improving the lives of everyone involved in youth sports—coaches, parents and athletes," said Dave. "We share PCA's vision of the experience youth sports and high school sports should provide, and we are delighted to be working with them."
PCA has affected more than five million youth athletes since its founding at Stanford University in 1998. Similarly, TeamSnap has acquired over twenty million users in 195 countries since it was founded in 2009.
"TeamSnap is a great tool that simplifies life for youth sports organizers, coaches, parents, and the athletes they serve," said Tina Syer, PCA's president. "The more a youth sports community can focus on developing better athletes and better people, the better off we all are."
The Double-Goal Coach® Award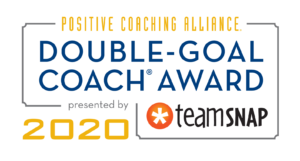 TeamSnap loves coaches. Many of us coach youth sports in our free time. 
Coaches are some of the most important people in our kids' lives—not only do they teach how to win and lose gracefully, but they also teach valuable lessons that inspire and shape the adults our children will become. 
We are proud to sponsor PCA's Double-Goal Coach® Award for the sixth consecutive year.
The Double-Goal Coach® Award, now in its 20th year, is one of the highest honors a US youth sports coach can receive. The award honors coaches who pursue wins and the more valuable goal of teaching life lessons through sports.
For an idea of the kind of exemplary coaches the PCA Double-Goal Coach® Award honors, take a look at last year's grand prize winner:
2019 Double-Goal Coach Grand Prize Winner Charlean Crowell:Â 
Know an inspirational coach? Nominate them for the Double-Goal Coach® Award! Nominations are open until Nov. 30, 2019.
—
Lisa Hope is a product marketing manager with TeamSnap and a marketing professor at the University of Florida.
---
National data actively tracking the safe return of youth sports activities
See the map
Share This :