Colorado Premier Basketball Club Scores a Slam Dunk With TeamSnap for Clubs & Leagues
Share This :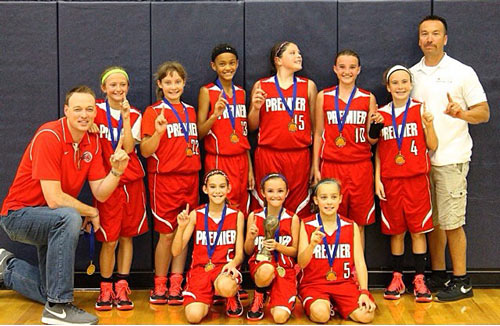 The stereotype of the overly competitive sports club is a common one: coaches who over-train their players, teaching them that the biggest achievement is to win at any cost; players who can't handle losing, and parents who get into screaming matches with coaches and referees.
One Colorado basketball club is trying to avoid perpetuating this stereotype with a focus on not only athletic development but also on compassion, preparation and practicing a positive outlook on and off the courts. "One of the biggest challenges facing the youth sports community is maintaining a positive, competitive environment without parents and coaches getting too emotionally involved, which can manifest itself into a scene made over a bad call, a foul, etc.," said Mychal Martinez, director of operations for Colorado Premier Basketball Club.
"At the end of the day, sports are about the kids and their development as athletes and young men and women. Our goal as a competitive basketball club is to create a positive, family environment where kids can grow not just on the court, but off the court as well."
About Colorado Premier Basketball Club
Colorado Premier Basketball Club is a non-profit youth basketball organization founded by former NBA player Keith Van Horn, who serves as the club's executive director (and sometimes TeamSnap spokesperson). The club hosts a variety of youth programs including First Dribbles, After School Hoops, Development Camps, Top Flight Group Training and the U10-U18 Premier Academy program. The club is also a Nike-sponsored organization with their girls' program being a part of the Nike EYBL circuit.
This TeamSnap for Clubs & Leagues customer is just four years old but is already making a name for itself in the youth sports community. In fact, in early July, nine of the club's teams placed first in their tournaments, which sent a wave of pride through the whole organization.
"We have the hardest-working players, parents, coaches and staff members who deserve nothing but the best," Martinez said. "To see our teams have this kind of success this early is a testament to Keith Van Horn's vision of teaching kids to love the game and play it the right way."
Good sportsmanship is practiced by players, parents and coaches
Part of encouraging kids to play the game "the right way" is reflected in the way parents and coaches are expected to behave.
The club asks parents to attend Positive Coaching Alliance seminars and all parents must agree to a parent code of conduct that includes what many of us might think of as a "sleep on it" rule – a policy requiring parents to wait until the next day to address any team-related issues they may have during a game or practice.
The club's coaches are also expected to model the kind of professional conduct players should display as well, before, during and after games. Coaches are asked to balance preparing players in practice, displaying knowledge of the sport, appropriately interacting with referees and parents, providing equal playing time opportunities, and, on top of all that, winning games.
"This is a tough balancing act for any coach involved in youth basketball and our coaches have done an exceptional job at it," Martinez said.
Of course, everyone occasionally has a slip-up, no matter how many workshops or behavior agreements they sign. Martinez said the Club tries to take a proactive approach in dealing with these types of situations.
"We have policies and procedures to not only try to minimize negative events but also effectively deal with them when they do happen so everyone can move forward in a positive direction. Negative events sometimes happen, and you have to have a plan in place to not only deal with these negative issues but also make sure we learn and grow from them."
Streamlined communication, registration and scheduling with TeamSnap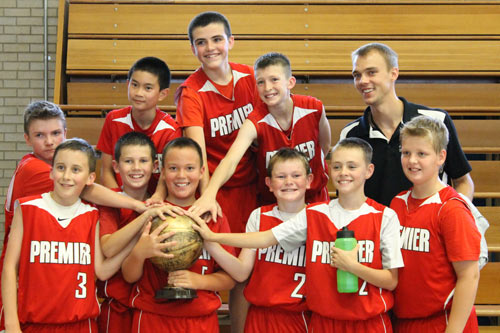 With that much to think about, the Colorado Premier Basketball Club relies on TeamSnap to help streamline some of the organizational and communication tasks of running their league, which includes satellite locations in Parker, Colorado and Sandy, Utah. Martinez was new to team organization software and said he found TeamSnap's club registration features, which allows administrators to easily facilitate online registration and collect waivers and player information, a huge time-saver.
"Between the desktop version of the service and the TeamSnap app, our club has found a way to streamline communication with our teams and coaches that many other clubs have not," he added. "One of the biggest compliments we receive as a club is that we are very organized and communicate the information well. TeamSnap has a lot to do with that."
Colorado Premier Basketball Club has even developed an app of its own. Top Flight Basketball App is available on all iOS and Android mobile devices and features a basketball training and skill development program developed by the Colorado Premier staff and coaches.  It teaches players, through video, how to master the skills that produce in-game results. There is also an "Ask Coach" feature where users can directly connect with the folks at Colorado Premier.
To hear about how Keith Van Horn made his journey from the neighborhood to the pros, be sure to check out his episode of the TeamSnap Youth Sports Podcast, "What It Takes to be a Professional Athlete."
Manage four or more teams from the same organization? Then TeamSnap for Clubs and Leagues might be for you! Schedule a demo today.
---
National data actively tracking the safe return of youth sports activities
See the map
Share This :