Sugarplum Elves Spread Cheer using TeamSnap
Share This :
Cinnamon, Cocoa, Fireball, Gooseberry, Jujubee, Juniper, Marzipan, Nutmeg, Peppermint, Periwinkle, Sweets, and Twinkle.
These entertaining Sugarplum Elves mix the creativity of their members with the craftiness of Portland and the usefulness of TeamSnap to spread the holiday cheer in fun ways.
They are avid TeamSnap users who make up a performance group that hails from the North Pole… also known as Portland, Oregon, an area inspired by the creativity of its city-dwellers and its, well, Christmas elves.
How does the elf story go? "Santa sent us from the North Pole to spread the cheer," said Peppermint Elf. "He first sent the elves to San Francisco, then to Seattle, then to Portland."
Nutmeg, Peppermint, and Gooseberry Elf founded the Portland Sugarplum Elves in 2009.  The original Sugarplum Elves of San Francisco is a group of creative women who wanted to have fun in new ways and inspired the Portland and Seattle groups to start their own. The elves are now in workshop rehearsals preparing for their performances at parks, malls, parties and big events during the busy holiday season.
The goal of the group is simple yet one-of-a kind: they use their elfiness to cheer people up through creative performances and explore other fun street avenues to do so (perhaps down Candy Cane Lane). One of the Elves' favorite events was when they became a part of Santa's sleigh and marched into Pioneer Place, a downtown Portland mall, dressed in elf attire handmade from costume-making parties organized through TeamSnap.
"The Santa's Arrival experience was memorable," said Nutmeg Elf.  "With the band marching behind us and Santa Claus in front of us, we'll be excited to return this season."
Through singing, dancing, charity events, and intermissions, Portland-goers can find these elves at many festive occasions throughout the year. One of their more interesting performances was singing at a St. Patrick's Day bar. No one pinched them that day since they had enough of the color green to go around!
The group also gives performance greeting cards throughout the year. Someone orders a singing telegram for a loved one, the Elves show up at his or her doorstep, and when the surprised lucky person opens their door, the Sugarplum Elves often are singing an "I love you" melody to show them they are appreciated.
So who are these Sugarplum Elves? They are friends in their 20's and 30's who have varied backgrounds in voice, theater and dance. Marzipan Elf is a professional dancer who, along with Peppermint and Juniper, choreograph fun dances for the group.  Juniper also leads the vocal rehearsals, and along with Cocoa elf, comes up with harmonies and the vocal styling for songs.  Peppermint leads the costume making sessions and helps keep the group on track for their busiest time of year. Gooseberry, a comedian elf with a knack for children's entertainment, originates many of the jokes and rhymes. There's always a time for these Elves to rhyme since, after all, "It's the nature of being an elf!" said Nutmeg Elf.
TeamSnap has also brought loads of cheer for the Sugarplum elves by helping them manage their group. Before discovering TeamSnap, the women were tired of using so many ways to organize. Facebook, email, Google docs, phone calls, and texts became overwhelming and it was hard to know everyone's availability. Thankfully, one of the elves was in a dragon boat racing team and introduced the group to TeamSnap. Now, said Nutmeg, everything is in one place.
The Elves meet for rehearsal every Sunday, particularly before their busy season in December. "TeamSnap pretty much makes that work," said Nutmeg Elf. Last year, the group had rehearsals through dinner and would organize through the TeamSnap Availability tab and Refreshments tab to know who was providing what food.
"The email function and the phone messaging function are also awesome," said Nutmeg Elf. "They are really helpful – we can look last minute and find out everything we need to know – like this person canceled, or this person is coming, and so on."
At their performances this year, the Sugarplum Elves have made it clear they want to endear; they're enjoying the costume parties, rehearsals, and performances to spread their elfiness and bring joy to all who see and hear their holiday cheer.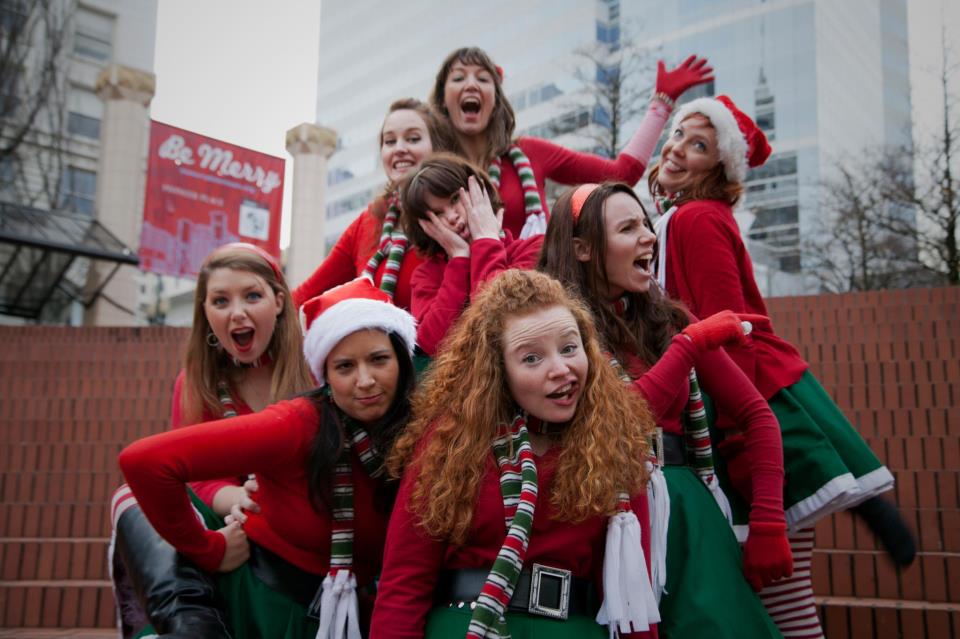 ---
National data actively tracking the safe return of youth sports activities
See the map
Share This :