TeamSnap Customer Profile: Ravens Women's Football
Share This :
With summer winding down, the leaves starting to turn and the occasional chill in the air, many a mind in the TeamSnap Nation turns to football. However, in British Columbia, a group of women are out on the gridiron seeking flag football glory. They are the Ravens, and they are a TeamSnap customer.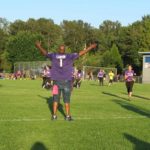 Ravens team manager Kristen Vestby was an early TeamSnap customer, first starting to use TeamSnap seven years ago when she played football in Edmonton. Upon relocating to the Vancouver area, she joined the Ravens. "The team came together in the fall of 2012," she said. "We were brought together by a bunch of players who had been in the league for many years, as well as some newcomers to the league.  We were also lucky enough to land one of the most experienced coaches in the league, Mark Lawson, who has been involved in the game of football for his entire life." Within a year, Vestby found herself managing the Ravens.
Flag football is serious business in Vancouver.  "Our league has 15 women's teams (in addition to the 60+ men's teams) split into three divisions, A, B, and C," she said. As for the draw of flag football to Vancouver-area women, Vestby notes "A lot of us love watching football, and that's why we got into it, while some of us are here because we were brought to the game by friends. Some just wanted to try something new or get back into organized sports."
Players on the Ravens come from all walks of life – on their roster, you can find a pharmacy tech, salmon biologist, kinesiologist, business owner, college instructor, corporate controller, lawyer, physiotherapist and mom of five kids, to name a few. Flag football is not their only passion, though – Ravens players can also be found playing rugby, dodgeball, volleyball, floor hockey, tennis, softball, paddle boarding, ultimate frisbee and basketball.
For a young team, the Ravens have turned heads with their play on the field. They recently played in the Pacific Northwest Women's Championship in Duncan, BC – their first time in the tournament. They did not let the big stage or a rookie quarterback stop them, however.
"We were scheduled for five round robin games on the Saturday, starting at 9 a.m. and ending at 9 p.m. – 12 hours of football!" Vestby noted. "We ended up going 3-2 in the round robin tournament, defeating two of our biggest Vancouver rival, including one who had defeated us in overtime in the regular season, and one that had knocked us out of playoffs the week before."
"It was some of the best redemption our team has ever had. "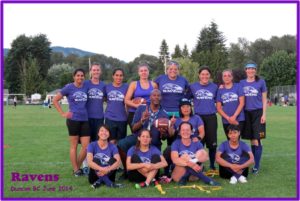 With practices once a week and a full slate of games, the Ravens rely on TeamSnap to keep their team organized. For the features that keep their team moving, Vestby suggests "The availability. It's the easiest and fastest way for everyone to see who is coming to a game, practice or event. TeamSnap allows everyone to know whats going on because people have access. If I can't make it to practice, Coach can look at the availability and see who is going to make it without me having to tell anyone."
"I also like the option to track payments, so I remember who has paid and who hasn't," she said. "Plus, it helps me organize jerseys, since you can put everyone's number in the roster so if players join/leave we know which jerseys are available."
As to why she would recommend TeamSnap to other teams, Vestby simply states, "Because it makes organizing a team so much easier!"
For more information about the Ravens, email the team at [email protected], or check them out on Facebook at Ravens Women's Football.
---
National data actively tracking the safe return of youth sports activities
See the map
Share This :