TeamSnappers Talk: Meet Bria Jones
Share This :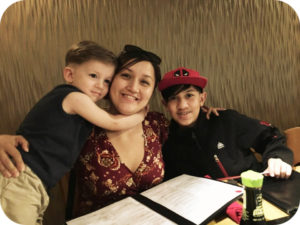 Ask any TeamSnapper what they love about their work and you'll hear a common answer: "The people." And since we spend a massive amount of time connecting with our colleagues, we thought we'd introduce them through our #TeamSnappersTalk series.
~~~
TeamSnap Customer Experience Content Manager and mom of two boys Bria Jones enjoys year-round sunshine in Tucson, Arizona. She dabbled in sports while growing up in Utah, and even played with a Jr. Jazz recreational basketball team. "I am naturally non-competitive, though," she laughs. "My youngest son is showing much more athletic and outgoing traits, foreshadowing sports activities in our near future."
Here, Jones shares what she loves about TeamSnap and how you can come on board and love it, too.
What are you looking for in a new team member?
I look for those who come to the team with an open mind, clear and continuous communication, a good attitude, and a sense of humor. Luckily for me, TeamSnap as a company excels at bringing people on board who are all wonderful to work with. Being open to ideas from all over the place, as well as being flexible to adapt to changes as our company and customer base grows is extremely important. A sense of humor is crucial, and generously posting an appropriate GIF in any and all conversations is a huge bonus.
What advice would you give people who are interested in working at TeamSnap?
I would urge you to make that jump and apply, and if given the opportunity to join us, to really embrace the company culture and get involved in the conversations. We are a company filled to the brim with fun-loving, welcoming, naturally helpful people who genuinely enjoy lifting each other up and cheering each other on as we strive to make the best possible product for our customers.
What's your favorite perk at TeamSnap?
I love all the perks here, including our vacation policy and our remote work culture with flexible scheduling. This has allowed me, personally, to work throughout a pregnancy, take time off to give birth and take care of my newborn for several weeks, and then come back to work with baby in tow when I felt ready! Baby is now almost four years old and ready for preschool. As a single parent I am so grateful that I have been able to work from home with him by my side without having to worry about finding childcare or dealing with a commute. TeamSnap gives us the trust and respect to get our jobs done. Whether that happens during traditional work hours or during a custom schedule that you work out for yourself, or even experimental hours while you travel abroad, the support and trust is always there. We are fully empowered and trusted to do our jobs.
The biggest perk for me personally is being part of an amazing team and having a manager I trust. We can have open and honest conversations–which is a major plus. The relationships I have with my manager, the rest of our team, and with my teammates throughout the company have reinforced my loyalty, respect, and love for this company and everything that we do.
Do you also love working in sports and thrive in a fast-paced, fun environment? Check out our current openings at https://teamsnap.applytojob.com/apply
~~~
Sheila Repeta is TeamSnap's Director of People Experience. When she's not recruiting and helping TeamSnappers, you can find her running on streets, trails, after her children, or off camping and backpacking.
---
National data actively tracking the safe return of youth sports activities
See the map
Share This :