At TeamSnap, Travel Doesn't Have To Mean Vacation
Share This :
Today was a pretty typical day for me at TeamSnap: I reviewed designs for our latest iOS release; ran a meeting with our product and engineering leads; planned a killer new promotional video with the marketing team; and took a four-hour guided bike tour through the back streets of Medellín, Colombia.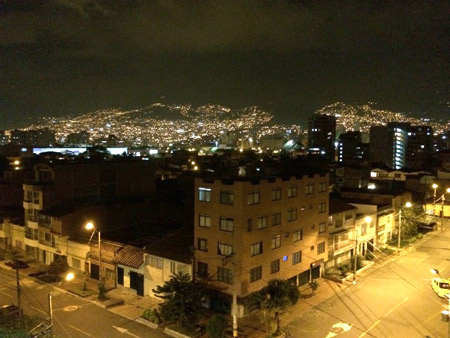 For most people, travel is synonymous with vacation. You take your hard-earned days off and spend them on an exhausting whirlwind of airports, hotels and tourist attractions. At TeamSnap, our extremely flexible distributed working model flips that concept on its head. Your "office" can be anywhere in the world — from your kitchen table, to the neighborhood coffee shop, to a condo overlooking downtown Medellín.
When we say that TeamSnap employees can work from anywhere, we mean it. While most of our team is U.S.-based, we've had people spend time working remotely from Spain, the Netherlands, Argentina, Nicaragua, Thailand, Costa Rica, France and many other countries. One of our developers is working from the road on a year-long RV trip around the United States with his fianceé.
The beauty of this flexibility is that it allows for "slow travel," the ability to experience another place in a relaxed, immersive way. Instead of passing through at breakneck speed, being shuttled from one TripAdvisor destination after another, I'm learning much more about the Colombian culture, history and people. I like to think of it as traveling deeply instead of widely.
During my two weeks in Medellín, I'll stay in this same AirBnB condo in a residential part of town, shopping with my local neighbors, getting to know the lady who sells grilled chorizo and arepas in front of the small store across the street and discovering the hidden corners of the city that the tourist buses never visit. Today, I borrowed a bicycle and pedaled with my neighbors in a community ride to celebrate women's rights. I may not see as much of Colombia as someone on a two-week, four-city tour, but I think I'll have a far greater appreciation for what it's actually like to live here.
Even accounting for a full workday and a good night's sleep, I still have many hours in the day for being a tourist. Without the time crush of needing to see all of the sights in two days, I can take a leisurely approach: a museum one day, a hike another day, a guided tour of Medellín's exotic fruit market the next. There's no pressure to see everything at once, and a rainy afternoon means working quietly in a neighborhood café instead of urgently trudging through "must-see" attractions in a wet poncho.
The key to making this work is a double-sided bargain between TeamSnap and its employees. As a company, TeamSnap doesn't just pay lip service to being a distributed team. About 75 percent of our workers are remote, and we operate in every way so that being remote doesn't mean being out of the loop. For the most part, TeamSnap exists in the virtual world of group video meetings, message boards, email and chat. We're extremely effective at communicating and have created a vibrant culture of teamwork and friendship even though we're not in the same physical office.
The other side of the bargain is that employees who are remote — whether in their home office or a casa in central Colombia — get their work done. Those of us who take our offices on the road make sure that the work comes first. My attitude isn't that I'm doing some work while I'm in Colombia — it's that I'm seeing some Colombia while I'm working.
The beauty of TeamSnap's setup is that I don't have to do anything differently to go on the road. The Internet is everywhere now, and my T-Mobile phone reaches me just as easily abroad as it does at my home office in Portland, Oregon. I was in a Google Hangout happy hour with 12 of my co-workers on Friday and nobody would have known I was in South America except for the local avocado vendor shouting "Aguacates!" outside my window.
This isn't the only way I travel. I'll also unplug a couple times a year for real vacations where I'm totally offline; work-life balance means occasionally getting a real break. But I love my work and I love travel, so being able to combine the two and spend time in other countries while still being there for my company is a fantastic opportunity.
Andrew is TeamSnap's Chief Product Officer, in charge of making the TeamSnap product grow. He also works in business development, marketing and strategy. In his spare time, Andrew teaches, performs and directs improvisational comedy with ComedySportz.
---
National data actively tracking the safe return of youth sports activities
See the map
Share This :