95% College Placement: How The De Anza Force Soccer Club Does It
Share This :
Many young athletes hit a moment "when things get serious" with their sport. They arrive at a crossroads where they have to choose one sport over another, choose to throw in the towel, or even choose if they want to train toward a college scholarship.
As a former full-ride athlete at Stanford and a two-sport athlete in high school, I understand the pressure felt in making these big decisions during a defining time. So when I talk to people who assist athletes in making the right decisions, I light up with excitement like a soccer match on a Friday night.
The coaches and staff of the De Anza Force Soccer Club (Force) of Cupertino, Cali., are definitely those people. Force coaches institute some of the most scientifically advanced and creative curriculum utilized anywhere in the world to assist in establishing the best technical and tactical youth-level players.
Unity
Let's back-heel a bit for a historical perspective on the club. Force is a 501(c)3 not-for-profit boys and girls soccer club located in the San Francisco Bay Area, serving as a bridge for athletes to cross over from high school to college. Force also uses TeamSnap's sports league management software to manage its 80-plus teams and keep communication lines open among coaches, team managers, players and parents.
"Early on, I felt as though our club was not participating as a single unit," said David Burgee, Force director of operations and a coach for the league. "We were a conglomerate of teams running off in our own coaching and management directions. With TeamSnap, we became more centralized, allowing us to communicate with all parties involved in the club."
Burgee used the example that if a coach or player has a health issue on the field, at the click of a button, the team manager can go to the roster and find their primary care physician's number and insurance carrier right from the sidelines.
"I have found TeamSnap to be the most reliable, the most progressive and the most aggressive in growing their company and brand," Burgee said. "All we have to do is tell (the folks at TeamSnap) what we need and what we're looking for, and if they think it's a great idea, they'll look for something to cater to that need, or at least be open to the notion."
Coaching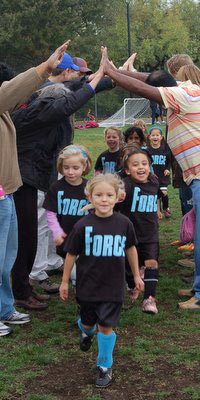 One of the secrets to Force's success is the coaching staff. This all-professional group makes their mark by knowing the idiosyncrasies of the game and understanding how to develop a young player for success in the future.
Members of the coaching staff, all of whom have licensing or certification, whether with the United State Soccer Federation or the National Soccer Coaches Association of America, work tirelessly to provide the best development so players will continue their soccer careers at universities and colleges throughout the country.
"We are about giving players a vision for playing beyond their club years," Burgee said. "It's something we actively market, advertise and promote. Last year, we had nearly 40 players go onto NCAA Division I, II, III, or NAIA programs."
Player Development
Force's coaches know what makes players successful. They have applied nearly 50 years of scientific and practical field research, from some of the best clubs in the world, to their own player development curriculum.
"We base our philosophy on developing the technically superior player," Burgee said. "The focus is no longer on developing the team or creating team success. We believe that team success comes later once you have developed the individual player to the point where they can apply the tactical components of the game through technical proficiency."
Additionally, the Force has grown significantly. The club is now recognized as one of the top five clubs in the nation, according to U.S. Soccer. The Force has approximately 1,300 competitive players and 300 players in an ever-growing recreational program.  Many of their teams have gone on to win, state, regional and national titles in various age groups and at various levels.
Success.
There you have it.  An elite soccer club shares its secrets for success.
Unify the club. Expose players to scientifically backed curriculum and knowledgeable coaching. Teach technical development.
With TeamSnap as the oil to this well-maintained machine, we can take some credit, but with a 95 percent college placement rate, it hit us that the sure-fire combination of it all makes what they do a winning force.
Jenny Hadden is the Web Marketing Manager at TeamSnap. She was a four-time Academic All-American gymnast at Stanford University where she received her BA and MA in Online Media Studies. Jenny is currently a mentor for young female athletes and is a wanna-be pro-snowboarder in Colorado.
---
National data actively tracking the safe return of youth sports activities
See the map
Share This :