3 Essential Hacks To Improve Your Sports Club's Operations
Share This :
An organization without good communication is like a plane without wings. It just isn't going to work.
No matter what size or sport your club or league is, communicating effectively is vital to success. Here's how to make sure your organization is flying high.
Take Everything Online
Club and league head honchos sometimes use several tools to manage their organizations. Email for sharing schedules, paper for registration, digital spreadsheets for rosters–we've heard them all. And while these tools can certainly get the job done, they aren't integrated. Which often means entering the same info in multiple places. Which takes valuable time out of your day. Which nobody likes.
Fortunately, you can consolidate. Club and league management software puts everything listed above (and more) in one place. Rosters, registration, schedules, communication tools and more are easily accessible on your phone or computer. Plus, club and league management software automates tasks that could otherwise take ages. Speaking of which…
Automate Your Scheduling
For many organizations, miscommunications arise when schedules aren't clear. For example, let's say you've got some league games coming up this weekend. If you construct your schedule manually, you could easily end up with scheduling conflicts, like having two games on the same field at the same time. And what's worse, you might not even realize you've made those mistakes until the day of your games. Yikes!
When choosing league management software, find a solution that creates your schedule for you. Whether it's league games or practices, look for a product that automatically catches those scheduling conflicts before they become problematic. And while you're at it, make sure you can set blackout dates as well.
Try Before You Buy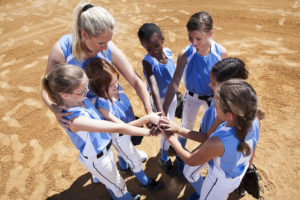 Free trials are super helpful, especially when making an important purchase. The thing is, many companies that build club and league software don't offer them. 
Here at TeamSnap, we're one of the only companies that offer free trials of our club and league management software. We want you to be sure you like it before you buy it. And if you'd like to bypass the learning curve, we'd be happy to set up a demo and give you a guided walkthrough.
Ready to take your club or league's communication to the next level? Schedule your demo of TeamSnap for Clubs & Leagues today!
---
National data actively tracking the safe return of youth sports activities
See the map
Share This :