Q&A: Hacking Growth for Your Hockey Organization with Jim Dahline, Director of Youth Development at MN Blades
Share This :
What exactly does a growing hockey organization look like? How do hockey organizers best plan for growth? You came to the right place to find out. 
We sat down with Jim Dahline, a technology expert with 10 years of experience in youth sports tech platforms, who serves as the Director of Youth Development at MN Blades and Commissioner of U.S. Pond Hockey. Dahline offered up some insight into hacking growth for your hockey organization. 
If you're interested in learning more from Jim, fear not! TeamSnap is hosting a live workshop on Wednesday, March 29th at 1 pm ET/11 am MT: See How The Best Run Hockey Clubs Grow on TeamSnap for Clubs & Leagues.
Q&A Hacking Growth for Your Hockey Organization
Q: What's the biggest challenge facing hockey organizations in the year 2023?
A: I'm sure that each club, league, or association is a bit different and challenges are unique in different areas. But, the biggest challenges that I've faced recently are the availability of ice facilities, the availability of officials, and impacts from rising costs since we completed tryouts and collected fees last fall. A lot has changed since then and I'm having to get a bit creative in how we are using team funds.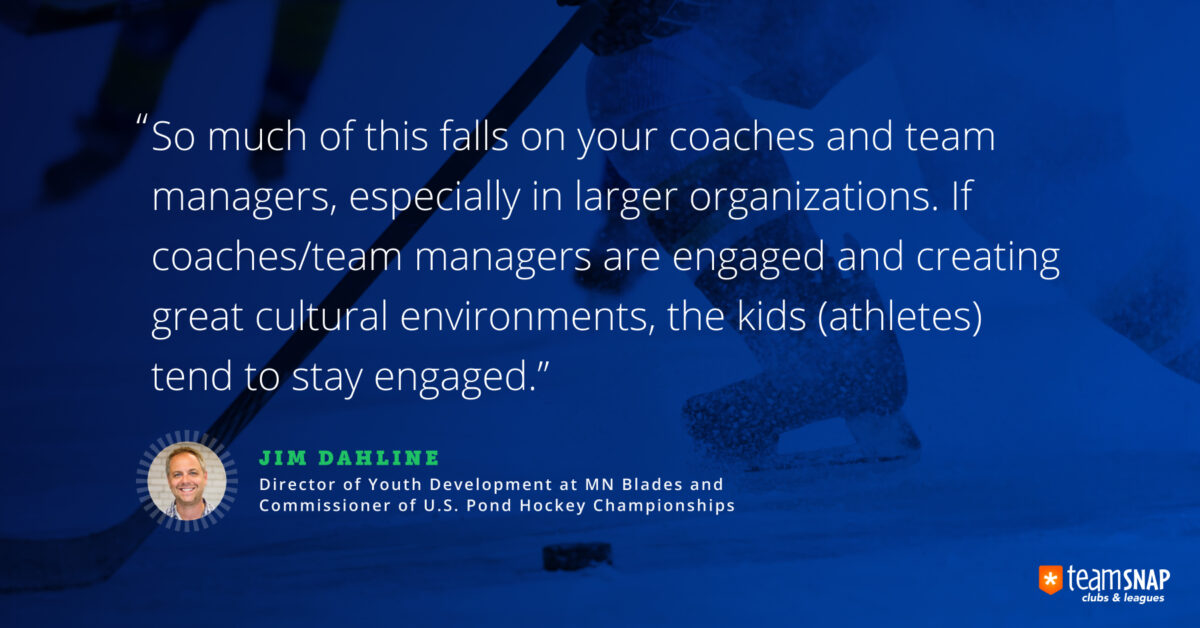 Q: How can sports organizers keep youth hockey players engaged throughout a long season? 
A: So much of this falls on your coaches and team managers, especially in larger organizations. If they are engaged and creating great cultural environments, kids tend to stay engaged. It's also important to give the kids some off days as well. It's ok for them to have some downtime away from the rink to grow their love of the game. I happen to live in an area where there are kids on the ice 2-3 times a day, 7 days a week. That seems to create more harm than good.
Q: What are three things a growing hockey organization does well in comparison to a stagnant organization?
A: I'm not sure that growing is always the mark of a strong organization. In fact, some clubs have the exact same number of teams year over year, and they are doing quite well. In the winter, our local hockey association measures success by growth because we want to have as many kids a part of our programs as possible. But in the summer, we rarely add another team to the total. And those are both ok. 
I would say though, growing organizations are looking for ways to create programing for new age/gender groups OR are looking to fill new dates on calendars. That could show as a new adult hockey league or example, or a new preseason tryout clinic.
Q: What are the best types of support a hockey organization can offer coaches?
A: Make sure you get them schedules as soon as possible. Make sure their team is all set up in an app that allows them to send notes and facilitate communication between the families.
Q: How can a hockey organization supplement the high dollar-cost of this sport? 
A: Several years ago I worked as a sponsorship coordinator for our association. It was a great way to bring in some additional cash to help fund initiatives we had, such as scholarships. Highly recommend you also ask for donations in your registrations, and let parents know why you are collecting them. 
I have to put in a shoutout for LeagueSide here as well. It's such an innovative service that I wish was available when I was running a sponsorship program. Since it's free to add your organization to the system and get presented with sponsorship offers, I don't really see a downside at all. Kids love looking like the pros, so the uniform sponsorships seem pretty cool.
Q: What are the biggest needs for hockey parents throughout the season?
A: No comment. Just kidding. All parents are busy. They are tackling jobs, finances, multiple kids, etc. Over communicate with them.
Q: What are the most important features on TeamSnap for Clubs & Leagues that hockey organizers must take advantage of?
A: As a coach, the assignments feature in the mobile app. Each game we need to have a penalty box person, locker room monitor, and sometimes a clock operator. Tracking and sharing those responsibility with the team through the app is clutch.
As a director, collecting all of the contact information for parents through registration, and then using rostering to add them to teams. This just makes the process of communicating and sharing schedules so much easier.  
Q: What are some unique organizational challenges facing hockey leaders?
A: There are definitely challenges in youth sports from rising fees, to resource shortages, to changing coach/parent dynamics. I'm not sure those are unique to any sport. While hockey still has hotbed areas, it used to have a problem with outreach and expansion into non-traditional areas, which isn't really the case still.
Webinar: See How The Best Run Hockey Clubs Grow on TeamSnap for Clubs & Leagues
On Wednesday, March 29th at 1 p.m. ET/11 a.m. MT, TeamSnap is hosting a live workshop See How The Best Run Hockey Clubs Grow on TeamSnap for Clubs & Leagues.
Dahline will lead us in this conversation and by the end, you'll get a complete view of the TeamSnap for Clubs & Leagues platform and walk away with additional information to help your hockey organization grow:
Why hockey clubs love using TeamSnap for Clubs & Leagues to help run and grow their programs

How to set up coaches and collect player assessments

A streamlined way to create teams, roster players, and upload your schedules

A simple process for transferring your data and website from another system to TeamSnap
Save your spot by heading over to this link! 
---
National data actively tracking the safe return of youth sports activities
See the map
Share This :