Creative Ways to Collect Payments for Your Sports Organization Using TeamSnap
Share This :
Here are a few creative ways to collect payments for your sports organization using TeamSnap for Clubs & Leagues. 
Administrators are facing more challenges than ever before. There's heightened competition from additional sports and league offerings. We see increased costs of play and much more. That's why sports organizers must look for every advantage when running their organizations. They also must pay attention to their bottom line.
TeamSnap is here to help. Increasing (or simply protecting) your bottom line is the first step in ensuring the health of your sports organization. And this can be done through the collection of payments. When you increase your bottom line, that means you're experiencing growth. But, how exactly do we accomplish that? TeamSnap for Clubs & Leagues has six unique ways for a sports administrator to collect payments and increase their bottom line.
Creative Ways to Collect Payments Using TeamSnap for Clubs & Leagues 
#1 Registration 
Registration is, arguably, the most important aspect of managing a sports organization. Considered a pillar of the industry, sports organizers must pay close attention to their entire registration process. Not only is it important for you to put together a well-tested, creative, and seamless registration process to help attract more members to your growing league. But, this is a great first opportunity to start collecting payments.
Usually considered the starting point for your league, registration brings league managers their first chance at interacting with athletes and families of athletes surrounding payment collection. During this first encounter, you'll want to at least make a decision regarding season dues and equipment fees. Those are the bare minimum when getting your league up and running for a new season. 
While we're on the topic of registration payments, this is a great time to remind sports organizers to clearly outline your club or league's payment options for registration, the payment terms, and your organization's refund policy. Don't get into a situation where you've under-communicated. 
---
#4 Memberships
What exactly do we mean by memberships? Fortunately, this term can take on a lot of different meanings for your sports organization. Does signing up for the league automatically make you a member? Maybe not. As a sports organizer, don't be afraid to utilize a membership-based fee. This is especially useful for travel sports organizations or higher levels of competition that play year-round schedules.
This style of membership captures players for a set length of time, maybe a full year or across multiple seasons. And the most useful part of utilizing TeamSnap to take care of invoicing and collecting these membership payments? Parents and athletes can join a running list. It doesn't have to be a one-time payment of $500 (as an example). Maybe you break that down into 10 payments of $50 throughout their time with your organization. 
Another style of membership covers fans of the organization. Perhaps it's parents, or again, that constituent that wants to see local sports thrive in their community. Donors can sign up as members of an organization. You can include different price points for entry. The lowest gets you a team hat and a signed letter. The highest? A sponsorship logo or stand at the local field. This membership cost goes to whatever goods you promise, but the rest sticks right back on your bottom line. 
---
Want to read more? The full EBook, Six Creative Ways to Use TeamSnap to Collect Payments, can be found by heading over our resource library or clicking the link below.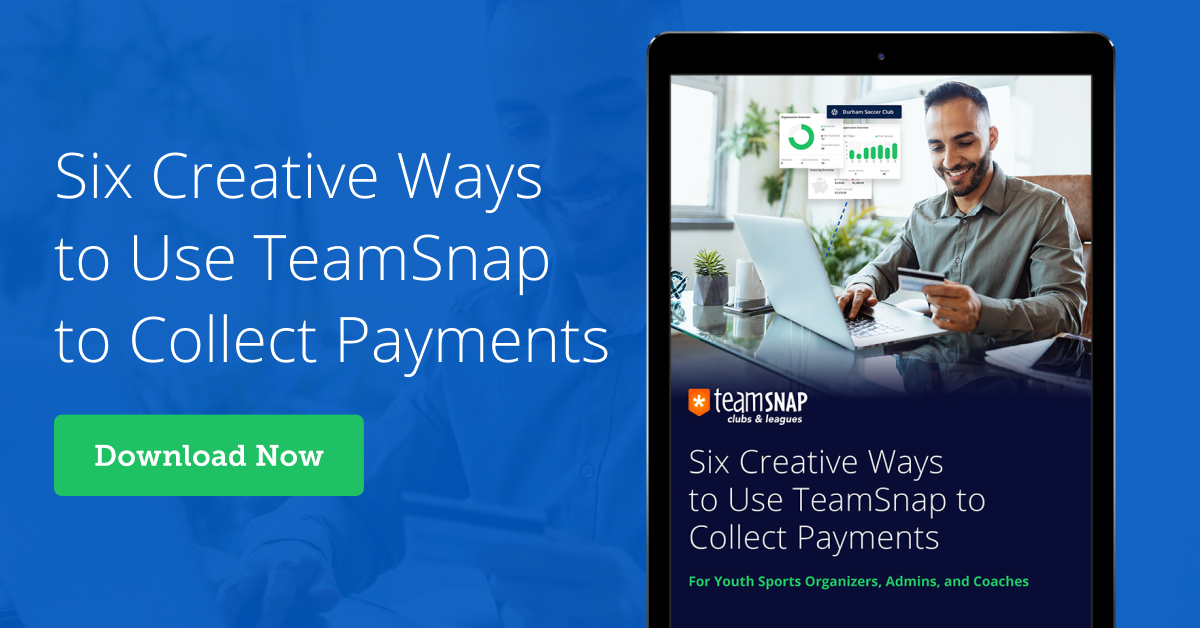 TeamSnap's latest EBook is far from our only resource on youth sports registration. Our resource library also has access to the All-In-One Online Sports Registration and Payments E-Book, as well as a recorded webinar going over these same methods! 
---
National data actively tracking the safe return of youth sports activities
See the map
Share This :