Introducing TeamSnap XL: Your Entire Team – On One Screen
Share This :
Today's smartphones are getting bigger – much bigger. The iPhone 6 Plus has a screen with almost 18 times more pixels than the original iPhone, while the Galaxy S6 ships with a whopping 24 times the screen resolution of the first Android phones. These are huge, beautiful devices.
Unfortunately, today's apps barely take advantage of these bigger screens. Sure, they may show a bit more content on each page, but the designs have merely been evolutionary, not revolutionary. At TeamSnap, we decided to fundamentally rethink what we could do given so many pixels to work with.
So today we're thrilled to unveil TeamSnap XL. It's every TeamSnap feature and function – all on one screen. Say goodbye to navigation. Say hello to navigawesome!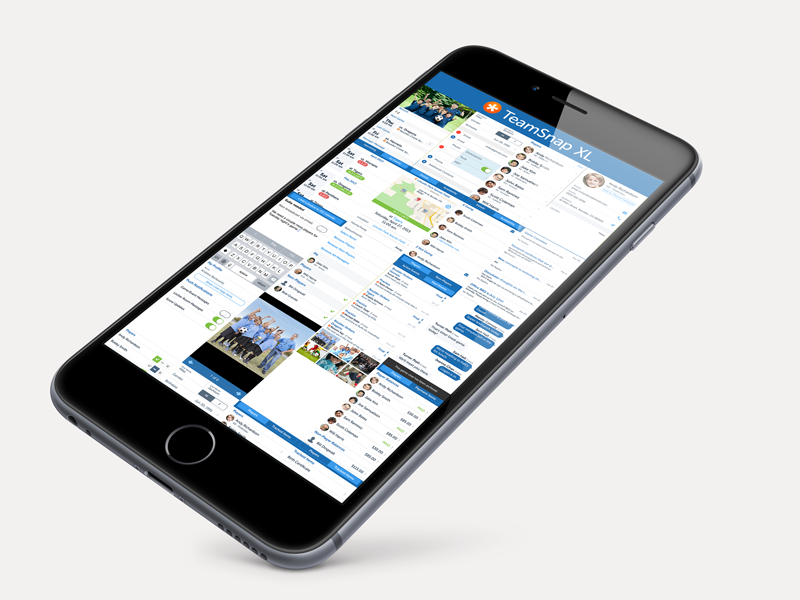 The results are mind blowing. With TeamSnap XL, every TeamSnap feature is on a single screen. There's no menus, no navigation, no back button. Want to check a player's availability while simultaneously sending a chat message in TeamSnap Live!? It's all right there. Need to record a payment while uploading photos and changing the arrival time for practice? You can do all three at once. Looking for directions to the game while posting a link to training exercises at the same time you're changing the weekend's uniforms to the red and gold jerseys and adding your new assistant coach to the roster? Well buckle up, because the possibilities are only limited by the number of fingers on your hands. More than 54 TeamSnap actions can be performed simultaneously from one screen. It's amazingly powerful.
But we're not stopping there, because today we're also announcing TeamSnap XXL, which takes this concept one step further. With TeamSnap XXL, every feature for every one of your TeamSnap teams will be available from a single screen. If you and your kids play on eight different teams, that's a potential 432 tools on a single iPhone 6 Plus screen. It's staggeringly simple and will be available in June. Pricing is $19.95 for TeamSnap XXL, which includes a laser-etched magnifying glass in a velvet storage case customized with your team colors.
TeamSnap's mission is to help coaches, players and parents save tons of time, and with TeamSnap XL we're finally helping you make the most of your giant smartphone. Download TeamSnap XL today for free. It's TeamSnap times the power of pixels.
Andrew is TeamSnap's chief product officer, in charge of making the TeamSnap product grow, managing the development team and working with customers, partners and designers on both day-to-day management and long-term vision. He also works in business development, marketing and strategy. In his spare time, Andrew teaches, performs and directs improvisational comedy with ComedySportz and works as a clean stand-up comedian in Portland, Oregon.
---
National data actively tracking the safe return of youth sports activities
See the map
Share This :