Health Check–Easily Screen Health Symptoms Before Each Game or Practice!
Share This :

COVID-19 has completely shaken up the sports world. That's obvious. 
But we as a community are working to return to play, in the safest and most effective way as possible. 
This means rethinking how we coordinate practices, schedule games and events, reduce liability and risk, and plan for the future. 
Part of this new normal is running regular health screenings prior to each practice and game. It's about more than just meeting health requirements. It's putting the health and safety of each player and member first. 
We've already seen that the return to sports will come with challenges, but TeamSnap has made an on-going commitment to deliver functionality, content and resources to support our customers through this current pandemic. This means helping reduce risk and supporting a safer return to play.
Introducing Health Check
With that in mind, we're excited to share that we have launched our new Health Check feature, built directly within TeamSnap. 
And in order to help more organizations and teams return with confidence, we'll be offering this paid plan feature for free to all customers during our current climate–whether you're on an individual team plan or using our Club & League solution.
Here's how you can simplify health checks with TeamSnap
If you're anything like the sports admins and coaches we've spoken to over the past month, you're either using a workaround, doing something more manual like online or in-person forms, or exploring expensive 3rd-party options.
Health Check is added to and associated with each upcoming and future event on your team and organization's schedule. 
Then 8 hours before each event's start time, the Health Check session will open up for participants to go in and take a quick self-assessment, right within their TeamSnap app. It takes just a few minutes! 
If cleared to participate, players can come to practice and simply show their green clearance screen. No scrolling, searching or additional confirmation work needed by coaches.
For coaches and admins, you can easily track who still needs to take their health check prior to the event. And since you're already on TeamSnap, you can quickly go message them and make sure they get it done before showing up.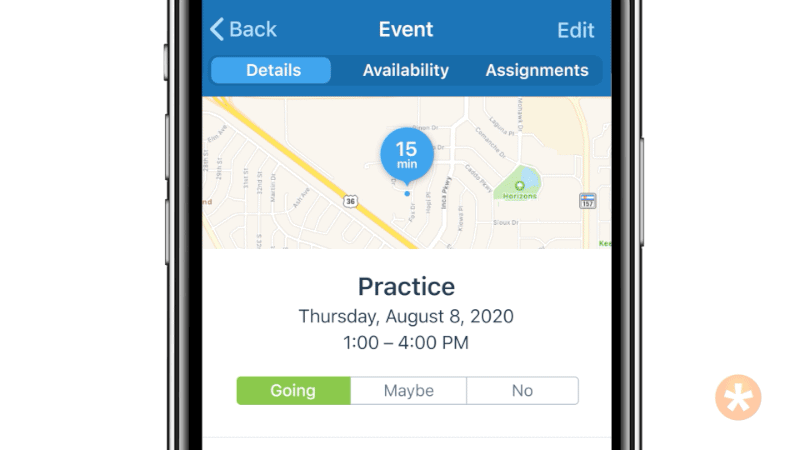 TeamSnap does not store the specific responses to each question, only the status of whether the participant was cleared–which is not visible to other players and parents. And for further privacy reasons, the status details are only stored for 90-days. 
How do you get started?
Ok, I'm sure you're ready to get started so make sure you and your members have the latest version of the TeamSnap app on your phones.  
You will then see the new Health Check section on the Event Details Screen in the mobile app. Make sure to communicate any new processes you want your participants to follow prior to attending a practice and game. 
If you're not currently a TeamSnap customer and want to set up your sports organization, request a live demo of our platform.
---
Anand Patel is a Sr. Product Marketing Manager at TeamSnap. He gets to soak up the beautiful Southern California sun every day and make his coworkers very, very jealous. 
---
National data actively tracking the safe return of youth sports activities
See the map
Share This :