Announcement: Assignments Free for US Teams
Share This :
We are proud to announce the assignments feature is now free for all TeamSnap users in the United States! As part of TeamSnap's partnership with Gatorade, all teams in the U.S. can enjoy the benefits of our easy-to-use, time-saving assignment tracker.
What is Assignments?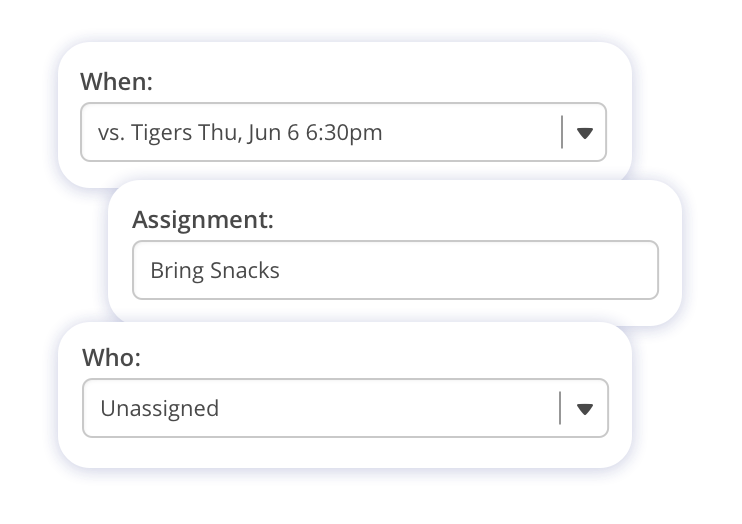 Whether it's remembering Gatorade or keeping score, your volunteers need to know what their task is for the day. Assignments enable coaches and team managers to assign tasks to parents and players, so everyone comes prepared for the next game or practice. 
Quickly assign who's bringing the team fuel with Gatorade and snacks, and coordinate tasks and volunteer shifts. If you're a parent or player, you can volunteer for any of these tasks. 
Tip: Look for Assignments in your event details within the TeamSnap mobile or web app.
Benefits of Assignments
Stay on top of volunteers, tasks, and signups.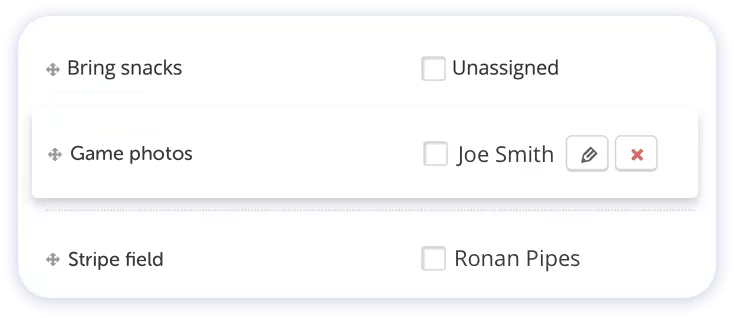 "I was at an event and needed to contact a volunteer who hadn't arrived. I went to the assignment tab, quickly found the volunteer I needed, then I went to the team roster and contacted them and their parents to find out what was happening. This has made life so much easier. We used to use Excel docs, Google Forms, Email, and SignUp.com all to coordinate our activities. This has really brought everything under the same roof."
Brian Jones, Harding Academy Robots program director
Show up to the next game prepared. 
Know who's bringing snacks and beverages to the next game. 
Assign your favorite snack or beverage.
Tell others what snacks or beverages they should bring, or sign up for something yourself. 
Make sure it gets done. 
You can also assign tasks like volunteer shifts, taking photos, bringing halftime snacks and setting up cones.
How do Assignments work?
.   
How to Create Assignments on Web
Log in to TeamSnap and click

Assignments

tab.

Not seeing the correct games or events from your schedule? Click

View Preferences

and update as needed.

Click

New

to have the option to create assignments for multiple events or skip to step 3.

Select to create the assignment for All Games, All Events, or All Games and Events, or a specific game or event from the

When

dropdown.

Click

New Assignment

next to desired game/event.

Enter an assignment description (multi-game/event assignments skip to step 6).

Optional (for single game or event assignments only): Click the

Who

dropdown and select from roster members to assign to or leave as Unassigned to allow for volunteer sign up to assignment.

Click

Save.
How to Create Assignments on Mobile
Open the TeamSnap app and tap team name.

Tap Schedule icon (Android) or Schedule/Availability tab (iOS).

Tap the desired game or event.

Scroll down and tap + (Android) or Add (iOS) in the Assignments section.

Optional: Tap the Unassigned dropdown and select a roster member to assign to or leave as Unassigned to allow for voluntary sign up for the assignment(players/parents will be automatically assigned to items they create).

Enter assignment description.

Tap Save (Android) or OK (iOS.
Note: Assignments are included in the automatic reminder emails sent out two days prior to games and events. For more information on Assignments, visit the Help Center.
Free for everyone, thanks to Gatorade!
Historically, the assignments feature was only available to paid teams. With our new partnership, Gatorade has opened Assignments for everyone in the United States, regardless of which plan you are on. 🎉🎉Now, it will be even easier for you to bring Gatorade to the game. (Just look for the dropdown in the app.) So get out there, rehydrate, replenish and refuel, so you never stop competing.
—
Lisa Hope is a product marketing manager with TeamSnap and a marketing professor at the University of Florida.
---
National data actively tracking the safe return of youth sports activities
See the map
Share This :