4 Ways We're Making Managing Registrations Even Easier
Share This :
Your organization is gearing up for the upcoming season and registrations are starting to roll in. Now it's time to manage those registrations by checking who's paid and who hasn't, keeping an eye on which programs are filling up, and making any adjustments for last-minute changes. The job is not over quite yet. 
Managing the season once registration is complete isn't always easy—which is why we've released some improvements to help make the process even easier. Now you can search and filter registrations, get clear reports on activity, and easily make adjustments. Here's what's in store: 
Easy search and filtering to find what you need
Whether you have only 20 registrants or thousands, you'll want to be able to quickly search through everything that has come in and get a good lay of the land. We've optimized our registration-search functionality to make it quicker and more effective for you to find what you're seeking. For example,  you can use our search field to filter by name, email address, or registration ID, and you'll receive results about 30x faster than before. No more waiting around. 
If you're doing a broader search, use our filter dropdowns to narrow the results by paid status, or the type of fee participants have registered for. 
Want to see who has registered for the Boys 5th/6th-grade recreational division but who has yet to pay their fees? Done!
Improved reporting and exports
Successfully managing registration requires a clear view of what's going on, and that is why we have rolled out updates to allow you to view and export registrations by fee type and easily see what each registrant is signing up for.  
Use the 'Participant Fee Overview' section to see how many people have registered along with how much revenue has been collected for a specific fee type. You can also export fee-specific data to see all registrants associated with the selected program or division.

On the 'Completed Registration' tab, you can now also clearly see what each registrant has signed up for and whether they have a remaining balance. Export this data to be able to run further calculations and business analysis. 
Simplified registration and roster adjustments
We've removed some extra steps to make things a little less complicated. 
Things change. Players may no longer be able to take part in the season, or perhaps they need to be moved to a different division or team. Perhaps a registrant accidentally signed up for the Boys 5th/6th division,  and he really belongs in Boys 3rd/4th. 
You can now go directly into the participant's registration record and adjust associated fees while also moving the player to the correct division or team.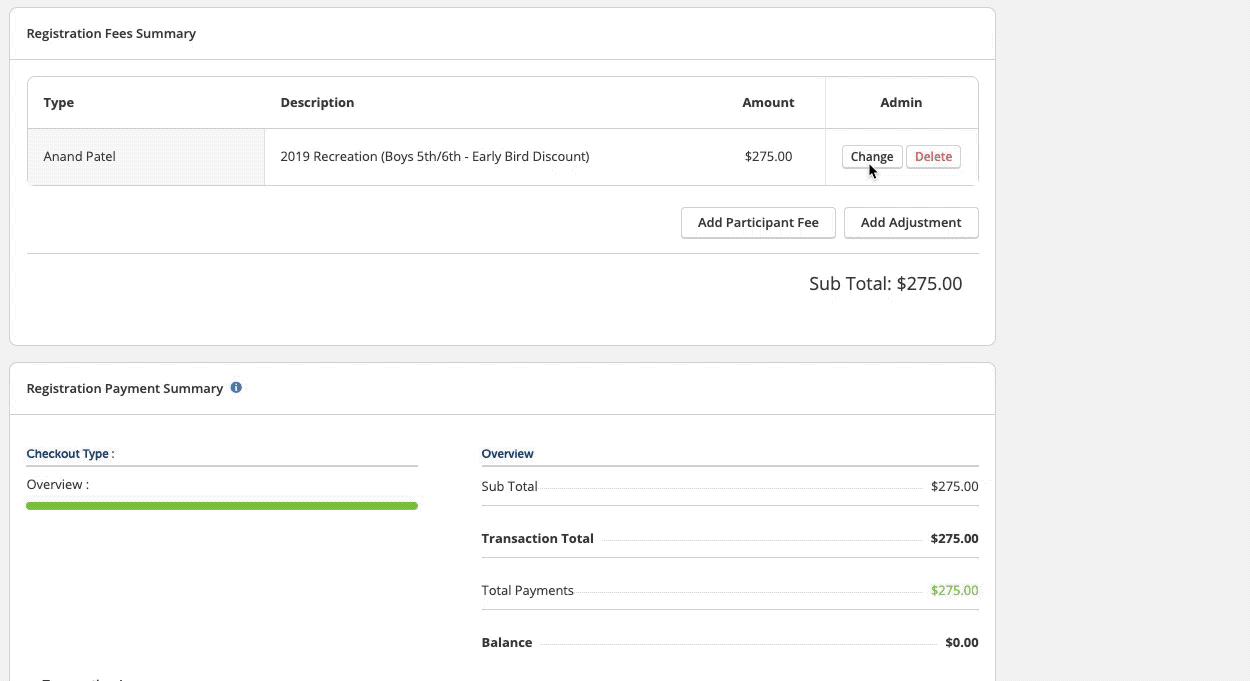 Automated team and division placements  
In the coming months, we'll roll out roster placement capabilities—eliminating the manual work needed to assign and place players to specific divisions and teams. You'll simply select where registrants need to be added, and they'll automatically be placed there once they register. It's not magic but sometimes technology feels that way! 
Registration is the gateway to a successful season, but can also be one of the most stressful activities. Here at TeamSnap, we believe our solution should help you simplify sports management, and that includes managing all the registrations once they have come in. We hope that these new capabilities help make your job that much easier and that we can continue delivering features that help simplify that process for you and your organization. 
---
National data actively tracking the safe return of youth sports activities
See the map
Share This :