TeamSnap Football Newsletter: June 2016
Share This :
Dust off your pads, folks. Football is back! We've got all the skills, drills and videos you need to get back in the game. In this issue, we've got:
If you haven't already, don't forget to set up your team on TeamSnap!
Throw Like a Champion
In this video drill, legendary quarterback Peyton Manning shows players how to throw a tight spiral with distance
and precision.
Coaching Football: Tips from a Pro
High school defensive coordinator Joe Daniel joins the podcast to discuss how to get players into a team mindset, how to deal with unruly parents, how to prevent concussions and more.
The Concussion Conundrum
It's no secret that concussions are a major concern for football players. Read this moving piece from Ben Utecht, a former pro football player, about his battle with concussions and what we can do to
prevent them.
Changing the Pre-Game Pep Talk
A subtle change in pre-game conversation from "you need to beat those guys" to "you need to beat your personal best" can make all the difference in maintaining your child's confidence.
Coach Better With the Glazier Vault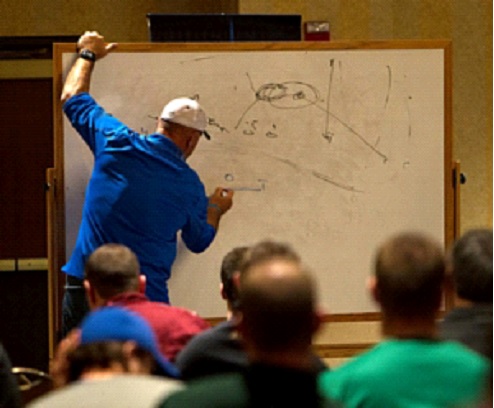 Want on-demand access to outstanding football coaching videos, notes, eClinics and webinars? It's all on the Glazier Vault!
Well, looks like you've reached the end zone. Get excited! We'll be here to help you schedule and communicate all season long. For on-the-go access, make sure you have the latest version of the TeamSnap mobile app for iPhone or Android. Don't have the app yet? What are you waiting for!? Good luck out there!

---
National data actively tracking the safe return of youth sports activities
See the map
Share This :