Youth Sports Are Dying And Our Kids Need Our Help
Share This :
Do you have a favorite youth sports memory?
Mine is the eighth grade Jericho, Long Island, baseball championship game. I was pitching the game of my life, and we were just one out away from a victory as my best friend Stefan stepped up to the plate.
Long story short, he hit a walk-off home run to win the championship.
After about 10 minutes of sitting there with my teammates devastated, something really special happened. Stefan and his teammates came over to us, congratulated us, and Stefan handed me the game ball.
This is why youth sports are so special: They embody community, competition, compassion, winning, losing, health, leadership and friendship.
However, COVID-19, has put the entire youth sports category in jeopardy.
What Does COVID-19 Mean for Youth Sports?
Canceled leagues and tournaments equals no income for organizers (predominately nonprofits). Families are asking for refunds, and youth sports organizations' bank accounts are running dry.
A youth sports recession is on the horizon. To understand the magnitude of the situation, we surveyed our network of 10,000 community youth sports organizers.
Here are three key takeaways from the data:
1.  A lot of youth sports organizations will go out of business. Forty-seven percent of organizations (over 800 responses) said that they are at risk of shutting down permanently. And nearly two-thirds  reported their bank accounts will keep them alive for less than 6 months. If 47 percent of organizations shut down, that will leave nearly 20 million kids on the sidelines.
"As of right now we don't have the funds to make it through this year due to low participation and no sponsorship. More than likely our community will not have football or softball next year for the kids in (the) community.." -Dwight B., West Carrollton Recreation Association
2.  Families can't afford youth sports anymore. Even if organizations remain in business, families won't have the money to participate. Between registration, equipment, travel and coaching, families spend thousands of dollars each year to allow their kids to participate.
In fact, 49.4 percent of survey respondents reported that their personal finances have been negatively impacted by COVID-19, and 33 percent reported that their children will be less likely to play. This compounds with data that children from low-income families are already four times more likely to quit a sport due to costs.
Participation in team sports was already on the decline. In the next few years, participation rates in team sports may get as low as 18 percent.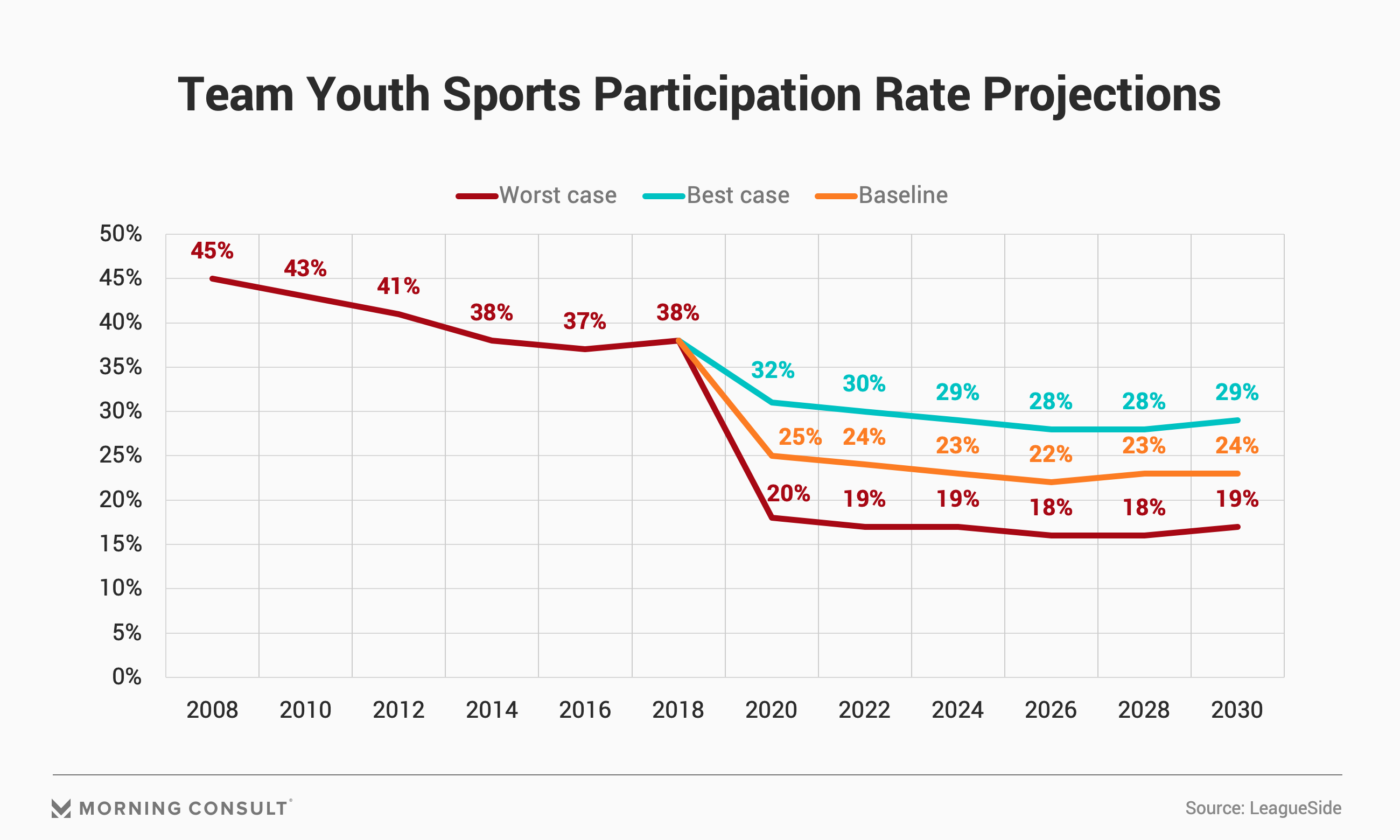 "Because I am furloughed from my job, my kids aren't going to be able to participate in sports until I am again employed. So that must come first. Second, my kids are active in various sports, and with their cancellation, the connection with teammates is gone." -Parent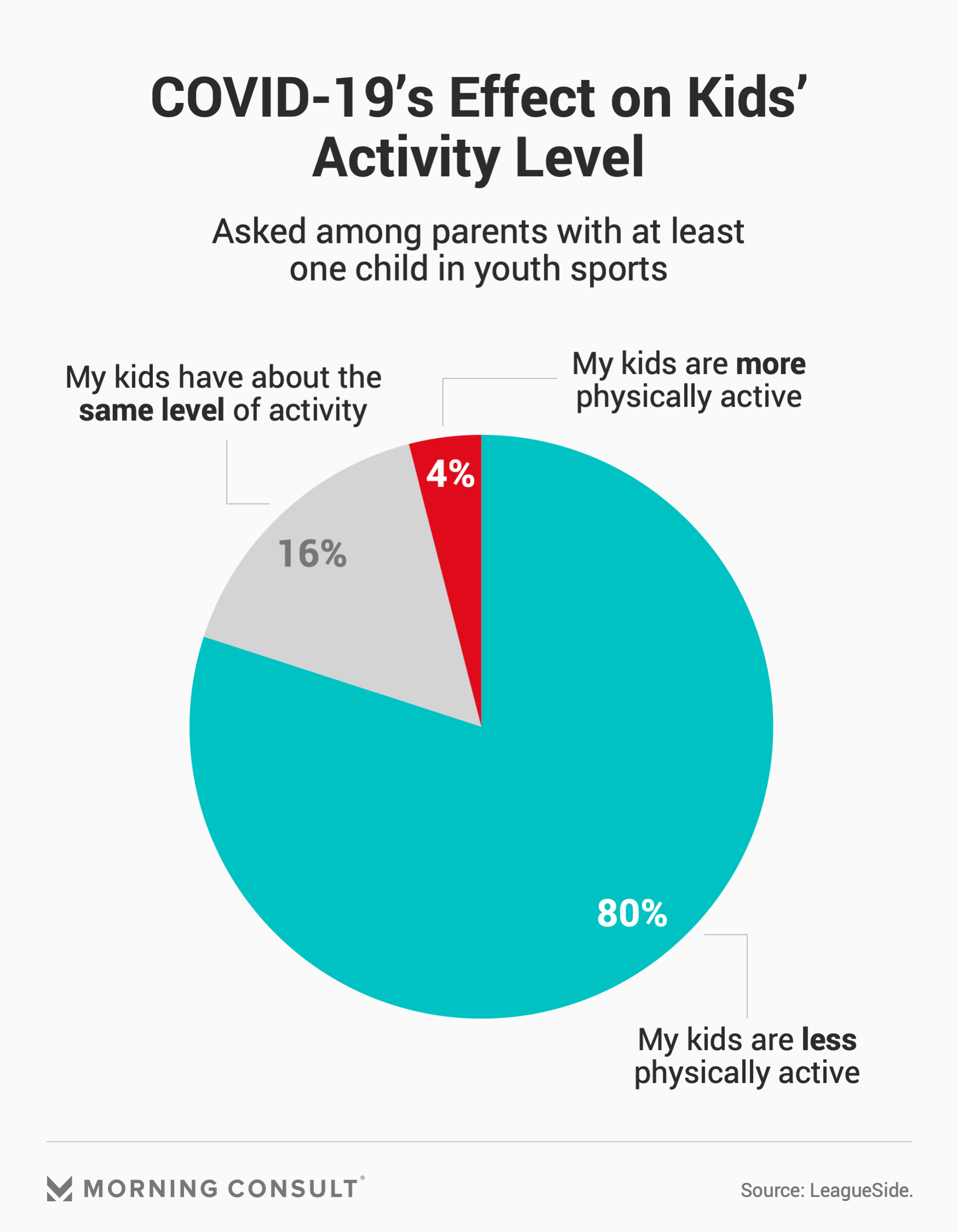 3.  Both physical and mental health will suffer. Youth sports are an important outlet for kids to stay healthy, learn important life skills, and socialize. Ninety-two percent of families listed sports as the primary source of physical activity for their children and 85 percent listed sports as a key way for their kids to make friends.
Childhood obesity is 10 times higher now than it was in 1975. Additionally, Generation Z has already experienced negative mental health outcomes from excessive screen time and social media exposure. If millions of kids are no longer able to play youth sports, it's safe to assume that these trends will only accelerate.
"As with most aspects of the COVID 19 pandemic, people are isolated. The impact is much greater on youth. Youth are missing milestones and developmental opportunities through school, activities and, of course, sports. It all adds up to depressed health for kids."  -Joe M.
WHAT CAN WE DO ABOUT THESE PROBLEMS?
Without youth sports, kids are at risk of poor health, economic, interpersonal and social outcomes. At LeagueSide, we're starting the #SaveYouthSports movement to reverse this trend.
Here are some ways to help:
Continue Social Distancing
Now is the time to be vigilant about social distancing. It may be tempting to let your kids play at the park with their friends, but these decisions may lead to a further delay in school reopening's and sports continuation.
We have spoken to several youth sports leagues that have considered having a shortened summer season. While this may seem like a solution to keep these organizations afloat, it is a short-term one with severe long-term repercussions. These decisions could lead to even more COVID-19 infections in your community and an extended shutdown into the fall.
Be smart, wash your hands, and wear a mask anytime you leave your home.
Donate to Youth Sports
We realize that this option is not available to all families or businesses due to financial constraints. However, if you have the means, please consider donating to youth sports organizations in need. Visit saveyouthsports2020.com to donate.
Sponsor a Local League or Facility
Another avenue to help is to encourage the company you work for to get involved. My co-founder Zubin and I started LeagueSide in order to help more kids play sports. Companies including Uber Eats, Smithfield and HomeAway sponsor a sub-set of the 10k youth sports organizations on our platform in order to achieve their community marketing goals while helping thousands of kids play. If you'd like to learn more about the opportunity to support youth sports, please contact us here. 
Share These Fundraising Resources
There are some incredible companies and resources dedicated to helping youth sports organizations raise more funds. If you know of any other resources, please send us the link so that we can share.
–     Join the Play Sports Coalition
–     Flipgive.com
–     Snap Raise!
–     Sponsorship letter
–     Sports Sponsorship Grants
---
National data actively tracking the safe return of youth sports activities
See the map
Share This :