A Complete Guide to the 2017 Wimbledon Finals
Share This :
It's that time of year again. School is out, the sun is out and the world's greatest tennis stars are out. That's right. It's time for the Wimbledon finals!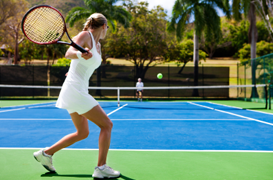 To seasoned tennis fans around the world, Wimbledon is the biggest event of the year. To novice tennis fans, Wimbledon is full of confusing terminology and foreign names. If you're on the latter side, we'll help get you ready. Here is our guide to everything you need to know about the Wimbledon 2017 finals.
When are the Wimbledon finals?
Wimbledon finals begin tomorrow, July 15.
What are the prizes for winning?
Besides the glory of winning the most prestigious tennis tournament in the world, singles champions will receive £2.2 million, equal to $2,507,890.
The rest of the winners break down accordingly:
Finalist: £1.1m ($1,253,945)

Semi-finalist: £550k ($626,972)
Quarter-finalist: £275k ($313,486)
Fourth-round: £147k ($167,573)
Third-round: £90k ($102,596)
Second-round: £57k ($64,977)
First-round: £35k ($39,898)
Who has won Wimbledon the most?
Pete Sampras (1993–1995, 1997–2000) and Roger Federer (2003–2007, 2009, 2012) share the record for most victories with seven.
Who is the reigning Wimbledon champion?
Men's Singles: Andy Murray

Women's Singles: Serena Williams
Men's Doubles: Pierre-Hugues Herbert & Nicolas Mahut
Women's Doubles: Serena Williams & Venus Williams
Mixed Doubles:Â Heather Watson & Henri Kontinen
Where is Wimbledon held?
Before you go swirling your wine glass and weighing in on the conversation, it is important to have a little context on Wimbledon as an institution. Simply enough, Wimbledon takes place in Wimbledon, England—roughly 10 miles from the center of London. The All England Tennis and Croquet Club is the site of the action. Not much happens in Wimbledon 49 weeks out of the year. But for three weeks, the world of tennis turns its eye to the town to watch the best in the world compete for glory.
What makes Wimbledon so special?
Wimbledon is one of the four Grand Slam tennis tournaments. The others are the Australian Open, the French Open and the U.S. Open.
Wimbledon isn't just the biggest tennis tournament in the world—it's also the oldest. The All England Tennis and Croquet Club was founded on July 23, 1868. The inaugural Wimbledon Champions tournament took place on July 9, 1877.
The most well-known Wimbledon traditions are the courts themselves. The Champion's courts are the only of the Grand Slams to use grass instead of clay. Wimbledon's grass courts create a faster pace of game and reward players who hit harder.
Another notable tradition at Wimbledon is the all-white uniform required of participants. Wimbledon's white attire isn't just a recommendation—it's enforced. In 2002, Anna Kournikova was asked to change her black shorts during a practice session. Luckily, her coach had an extra pair nearby.
Wimbledon also has a striking lack of sponsors. Wimbledon sponsors are rare due to the restraints placed by The All England Tennis and Croquet Club. The only sponsorships aloud at the tournament are from companies who provide the equipment.
Who will participate in the finals?
Men's Singles: Winner of Sam Querrey vs. Marin Cilic against winner of Roger Federer vs. Tomas Berdych
Women's Singles: Garbine Muguruza vs. Venus Williams
Men's Doubles: [Lukasz Kubot & Marcelo Melo] vs. [Oliver Marach & Mate Pavic]
Women's Doubles: Winner of [Anna-Lena Groenefeld & Kveta Peschke] vs. [Ekaterina Makarova & Elena Vesnina] against winner of [Hao-Ching Chan & Monica Niculescu] vs. [Makoto Ninomiya & Renata Voracova].
Mixed Doubles: Winner of [Henri Kontinen &Â Heather Watson] vs. [Bruno Soares &Â Elena Vesnina] against winner of [Jamie Murray &Â Martina Hingis] vs. [Marcelo Demoliner &Â Maria Jose Martinez].
When should you watch?
Semifinal matches are happening today, July 14. Finals for all divisions will be held tomorrow. A full breakdown of the schedule can be found on the official Wimbledon page.
What can young athletes learn from watching?
Many people believe these professional athletes' effects on youth are negative due to their money and occasional outbursts. However, there are three main positive lessons to be learned from the stars of Wimbledon.
Work hard: Success is not given—it is earned. The training schedule of an elite tennis player is extremely rigorous. This level of training is something young athletes can apply to their own lives.
Be sportsmanlike: Shaking hands after a match is a requirement of youth sports. Watching Wimbledon stars shake hands after matches, regardless of the outcome, drives home how important it is to uphold sportsmanship.
Use failure as motivation:Â Wimbledon is often a story of redemption. The most important thing to do after a defeat is not to dwell on it, but to learn from it. No one knows this lesson better than the athletes of the tennis world.
Now you're ready for the 2017 Wimbledon finals!
Adam Shafer is a Sales & Marketing Intern at TeamSnap. He's a rising senior at CU Boulder studying marketing as well as technology arts and media. He's been involved in sports throughout his childhood and into his college years, from 10 years of youth baseball to an intramural broom ball championship.  In his free time he loves hiking in Rocky Mountain National Park and scuba diving in the Caribbean. And one time he met Jerry Seinfeld.
---
National data actively tracking the safe return of youth sports activities
See the map
Share This :