TeamSnap Unveils New Registration System Aimed to Deliver the Most Intelligent Experience in Youth Sports
Share This :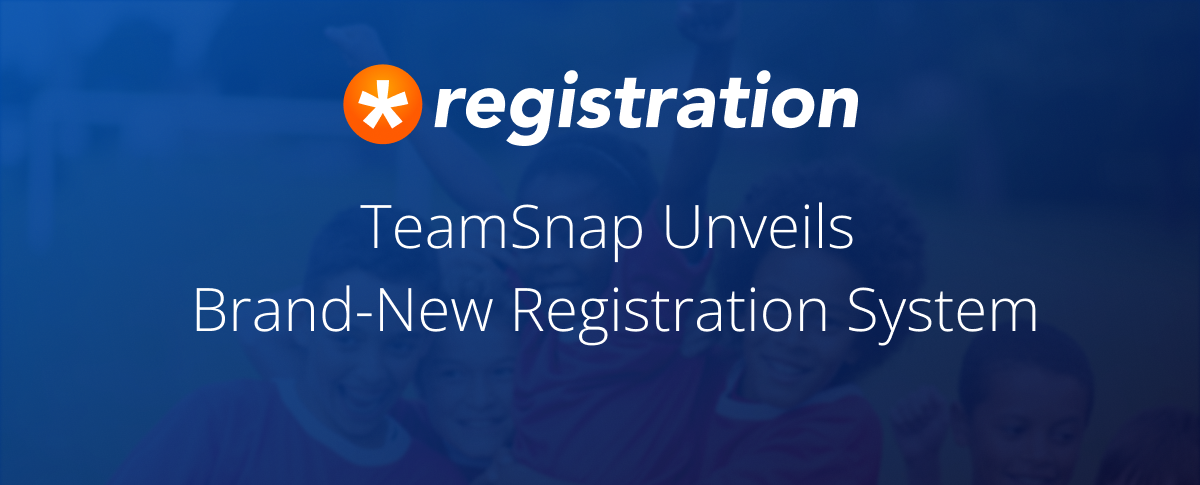 The New TeamSnap Registration is Youth Sports' Most Configurable & Cost-Effective Way to Register Players, Staff & Volunteers, Only Available on TeamSnap for Business
Chicago, July 25, 2023 — TeamSnap, the online community for everything youth sports, today announced its all-new solution, TeamSnap Registration. TeamSnap Registration brings club and program organizers everything they need to register players and staff, collect fees, and ensure all forms and documents are completed in a flexible, easy-to-use interface.
The announcement of TeamSnap Registration comes on the heels of the launch of the newly revamped TeamSnap for Business, announced just last month. TeamSnap for Business is a next-generation suite for sports organizations, which brings together the company's suite of integrated tools built to support and grow youth sports organizations. TeamSnap Registration is available only on TeamSnap for Business.
"Every single youth sports organization and team is presented with challenges that require them to operate as a business. We are on a mission to help organizations solve those challenges to support their growth, while at the same time, creating outstanding experiences for their staff, coaches, families, athletes, and their community, said Peter Frintzilas, CEO of TeamSnap. "The new TeamSnap Registration is the result of a multi-year investment in working with customers to create a simple yet powerful registration system. It's a real differentiator for our industry and further affirmation of our commitment to being the leader in the sports management technology market."
TeamSnap for Business Registration
TeamSnap Registration is powered by advanced logic, which provides administrators complete control over how questions and fees are presented to families and athletes. It includes a brand-new export wizard that allows organizations to create consistent, custom templates for easy data sharing with governing bodies, accounting software, and whatever else is in play. TeamSnap Registration also features multiple payment plans enabling families to pick a plan that works best for them, leveling the playing field for registrants of all financial backgrounds. This new solution is the company's next step in its evolution toward providing the industry with one easy-to-use system for all things youth sports creating a more seamless experience for all users.
We know and understand the complexities of building and running a youth sports program. These leaders deserve the most advanced solutions and technology to do so efficiently, said Brian Caulfield, COO of TeamSnap. "Now organizers can better manage every aspect of their team with ease. It is a win-win situation for everyone involved, allowing organizers and families to focus on what matters, the game. 
Additional Key Features for Sports Organizations:
Setup Wizard

Guides administrators through the steps to launch their new registration. 

Mobile Optimized

Created for on-the-go parents, TeamSnap Registration is mobile optimized so it looks and works great no matter the device they are using to sign up. 

Family Centric

Recognizes all members in a family's household, making single or multiple-child registration a breeze. 

Automated Payments

Collect money automatically on due dates with automated payment runs built into payment plans. 

In Progress List

Gain insight and take action with registrants who have started, but haven't completed a registration.

Program Integration

Gives program managers access to member data in order to send emails, invoices, and create teams. 

Custom Report Builder

 Create customized report views for all registration data.

Rostering

Quickly add teams to the TeamSnap mobile app with drag and drop rostering integration

Digital Wallets

 Registrants can now use ApplePay or GooglePay as payment methods for frictionless check-out.

Agreements and Documents

– Collect digital acknowledgements for things like waivers, code of conducts, and photo releases with the improved agreement and document collection features. 
"We love the new registration tools from TeamSnap! It honestly made the chore of collecting payments and data for the 20 teams in our program much easier, said Joe Falabella, Nassau Pride Hoops Boys Coordinator. Instead of spending most of my time chasing balances, I can concentrate on building other areas of our program.
For more information on TeamSnap Registration, interested parties can attend a webinar on Thursday, July 27, at 1PM ET/ 11AM MT, by signing up here: https://www.teamsnap.com/for-business/teaser-registration 
About TeamSnap
TeamSnap is home to the largest online community for everything youth sports. It is consistently rated the No. 1 sports management platform by its loyal audience of more than 25 million youth sports coaches, administrators, players and parents and over 19,000 sports organizations across more than 100 different types of sports and activities. The leading sports-tech company offers brands innovative new ways to connect with passionate youth sports audiences from across the globe, while offering sponsorship opportunities that impact the lives of millions of youth athletes each year and also provide much needed funding to thousands of youth sports organizations. It is currently in high-growth mode, expanding its footprint toward becoming THE platform and marketplace for all things youth sports.
TeamSnap Impact is the company's initiative aimed at enhancing the lives of kids by creating a world where youth sports programs are accessible and equitable for all.
For more information, visit the TeamSnap website, and follow the company on Instagram, LinkedIn and Twitter.
Media Contact for TeamSnap
Alexandra Shafer
JConnelly
973.934.5100
[email protected]Â 
---
National data actively tracking the safe return of youth sports activities
See the map
Share This :