Introducing TeamSnap for Android 3.0: Now Both Pretty and Awesome
Share This :
We're super excited today to take the wraps off TeamSnap 3.0 for Android. It's our biggest Android release yet, and we think you're going to love it.
The first thing you'll notice is a spiffy new look.
We're updating the design of TeamSnap everywhere, and Android users are getting the new makeover first.
We want to make sure TeamSnap looks modern, friendly and approachable on all your devices — phones, tablets, browsers — on every platform.
But it's more than just a pretty face, because we've done everything possible to make the app speedier. Thanks to some major work under the hood, you should now find your TeamSnap Android experience to be overall snappier. You want to locate your next game or look up the coach's phone number as quickly as possible, and this release is a jump forward in how fast the app runs.
But speed is also about how fast you can get to the information you need, so we've moved some key tasks front and center in the app. Our redesigned Schedule screen now has a widget for setting your availability for each game and event. No more drilling into each individual event to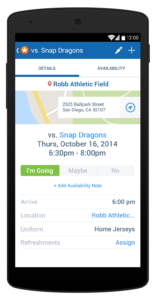 set availability, just fire up the Schedule screen and set and confirm your availability with a quick tap-tap-tap. We've also made the game/event detail screens easier to read so you can get all the scoop you need at a quick glance.
Those are just a few of the big things, but there's much more:
Want to copy someone from your TeamSnap roster to your device's address book? Boom! One click. Done.
Higher-resolution photos? We got 'em.
Easier to use Facebook login? You bet.
And of course, there are dozens of little tweaks and bug fixes to make your TeamSnap experience on Android better than ever.
If you don't yet have TeamSnap 3.0 for Android, hop over to the Google Play store and grab it. It's free! If you already have it, be sure to upgrade to this great new version.
We hope you're delighted by this new release, and we'd love to know what you think. Comment here, or hit us up on Facebook or Twitter to give us your feedback. A few surprises are in store for version 3.1, so stay tuned!
---
National data actively tracking the safe return of youth sports activities
See the map
Share This :